Build Sheet Color Codes: 1977-1981
Back to Build Sheet Bingo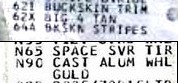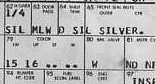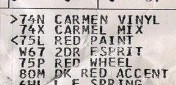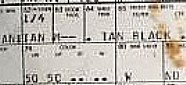 The build sheets had to specify the color of every part of the car. This was fairly complicated on some cars. The colors of some items were spelled out on the top part of the build sheet, and others were shown on the lower part using RPO codes. In the RPO section, the color codes are all two digits, and they would be followed by a one-digit suffix for a part of the car. For example, 55P denotes gold wheels. "55" means gold, while "P" means wheels.
Color Number Suffixes
R - Standard Interior
B - Cloth Interior
N - Custom Vinyl Interior
2 - Leather Interior (used in 10th anniversary Trans Am (TATA))
9 - Seat belts (beginning in 1979)
C - Unusual multicolored seats: Leather/Cloth Interior (1980 Pace Car) and Recaro interior (1981 Pace Car)
X - Color of the Dash, Console, Carpet, Kick Panels, and Rear Shelf Panel (77-80)
I - Interior Color, used on Van Nuys cars to specify color without specifying standard or deluxe. On 1981 Norwood cars, I was used for the dash color instead of X, but Van Nuys continued to use I and X the way they always had.
P - Wheels (the examples I have are all aluminum)
L - Stands for 'lower' body. Denotes paint color
M - Stands for 'middle' body. Usually denotes accent paint color where used, like on a W50 Formula.
U - Stands for 'upper' body. Denotes roof paint color, like the black roof of the Nascar Trans Am.
A - Stripes. This is for the "Nike Swoosh" kind of Stripe that was available on Firebirds
For example, my 1977 car is black and has buckskin tan interior. I have gold wheels. Out of 4 possible color codes on my build sheet, I have just two: 64N (for buckskin seats etc) and 64X (for saddle dash, carpet, etc.). My build sheet says EXT PT BLACK instead of having a 19L. Brian's 1978 car has 55P for gold wheels, where mine does not. His car also has 50L for paint instead of EXT PT. Our cars have color-coordinated seat belts, but they didn't start using a color code for that until 1979.
| | |
| --- | --- |
| Want a fat example? A 10th anniversary Trans Am (TATA) has 152 ( silver leather interior), 15X (silver dash, carpet, etc.), 159 (silver seat belts), 15L (silver paint), and 16P (gray wheels). | |
| The 1980 Turbo Pace Car puts it over the top with six codes: 12C (weird combination leather/cloth multicolored seat), 16X (charcoal dash,carpet,etc), 11L (white paint), 11P (white wheels), 16M (charcoal accent paint), and probably 169 (charcoal seat belts). The seat belts were multicolored in this car, and I can see the 9 but I can't see the color code. In additional to all this, it has a giant 11 like the giant Y82 back on the buildsheet bingo page. | |
| The Nascar is a lot like the Indy, but has a U, instead of an M, for the upper 2-tone paint scheme. This the only type of car in all my build sheets to use a "U". | |
Van Nuys and Norwood were inconsistent in how they showed color codes on build sheets, and they also changed a little from year to year. On some years, exterior paint color was printed using an RPO code of EXT PT (for exterior paint, apparently)
Weird File:
My car has buckskin tan interior, which is color code 64. It's a two color interior. The seats, door panels, and headliner are a light color, and everything else is a contrasting dark color. The color code 64 refers to either color on the build sheet.
Carmine is misspelled both Carmel and Carmen on a Redbird build sheet shown at the top of this page. I guess you were supposed to look at the number and ignore the words!
There were two different mixed interior options.

White interior is normally accented with black (black dash, carpet, etc.). From 1974-80, you could get it accented by any other interior color (like the photos below). They called this "white interior with colored appointments." There were certain years you could also get black interior with colored appointments.
In 1974-1977, you could also get colored interior with different colored seats (only). The door panel color isn't explicitly called out on the build sheet, so I don't know how that was done. I don't have build sheets that document this rare option.
The Colors that Weren't
According to the parts books and decoding guides, There was a mixed interior offered from 1976-80 that featured white interior with a unique accent color. That is, a color that wasn't on the list of interior colors. These interiors would have required at least 20 items to be produced in the "unavailable" color!

The idea in 1976-78, I think, was that the accent color matched a paint color for that year. Some cars would have been made for dealer stock featuring this scheme, which looked pretty impressive in the showroom. You'll see what I mean, I hope.
1976: 11/344 - White with Lime

I've only seen this interior once. This very original 1976 Formula belongs to Tim Cole. It features the white with lime interior with the optional lime seatbelts! The exterior even has the lime over-the-roof stripe. It's certainly unique. I photographed it at the 2006 STARS show.

1977: 11/34X - White with Turquoise

I have only seen a couple of these cars, both on ebay, and both times the paint on the car was aqua to match the interior. I wish I had kept pictures of this car, showing the exterior also.

1978: 11/67X - White with Ember

Ember is a color that you can't guess from its name. Luckily, it was offered in paint, so we know it's a bronze color. I've never seen this interior, but it must look very similar to this picture, which is actually a 1979.

In 1979, GM offered camel tan paint (Pontiac called it "Sierra Copper"). While the camel tan interior pieces were quite "normal", they still had the same effect when used as "colored appointments" in a camel tan car.

Just imagine everything a little darker and you should have "Ember."


This isn't the real Ember, however.

1979 (top) and 80: 11/16X - Oyster with Gray.
The 1979 Firebirds didn't offer white interior any more. They called it "oyster" instead, and it has a little silvery tint to it.

Pontiac was getting lazy! This scheme was offered two years, and it was made using the plastic parts from 1979 and 80 pace cars, so no special colored parts were needed. It looks like an Indy Pace Car interior with regular white seats.

In both 79 and 80, you could make yourself a "poor man's Pace Car" with white or silver Trans Ams being offered. There are a lot of these around. As you can see from these photos, these schemes were available in standard and deluxe interior.



Of all these, I think the Oyster/Gray is the most common. I had certainly seen several of them, and only once have I see any of the others. When I saw these options listed in books like "Firebird Decoding Guide", I wondered whether the other ones were ever made. Then I saw a 77 with the turquoise on ebay, and Tim Cole's 76 Formula! It's definitely eye-catching! If you have a photo of one of these rare interior colors please let me know! Back to Build Sheet Bingo