1987 Lincoln Mark VII LSC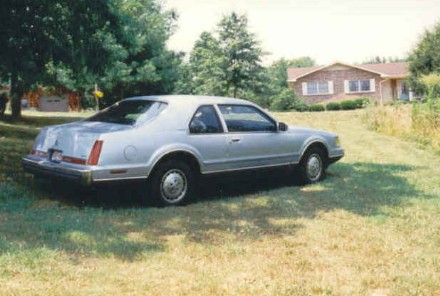 It's not the "hot rod Lincoln" of song, but it is the car Brian and I drove to pick up his 2nd Gold Edition....

In 1984, Ford decided to take a shot at German luxury coupes like the BMW 635. They did a resonable job of pulling it off. The Mark VII was elegant, stylish, and in LSC trim had decent handling and performance. Motor Trend took their initial trial run on the Autobahn, and they reported that the German people couldn't imagine why a car would have a fake spare tire hump.

In 1986, they decided to put the new Mustang SFI 5.0 HO engine in the Mark VII, along with the Mustang-tuned transmission. This high-tech-for-then combo put some real snort into the Mark VII, and made it a serious contender for my then-yuppie performance car dollar. It was slower than a Mustang, weighing 3700 lbs and covering the quarter mile in about 16.9 seconds. On the other hand, it had an 8.8 rear axle geared 3.27, 4 wheel disc electric pump-powered ABS brakes, and 5-lug wheels, features that all the Mustang owners were begging for and couldn't get. It sat on a Fox platform that had been widened, lengthened, and beefed up compared to the t-bird.

I would have to say that few young people bought LSC's, but maybe I'm just not normal. I'm a big car man, really. I had decided that I should buy a brand new car to reward Ford for building the luxury/performance combos that they had in the Turbo Thunderbird and later supercharged SC and Mercury Cougar. The handling in these cars was just incredible for the type car they were. I had two problems; my head hit the ceiling in the old Turbo Coupe, but I absolutely hated the SC styling, and I still hate it today. So, I began to see the Mark VII as the best of both worlds. Real power, and real headroom. The only problem was I couldn't get a 5-speed.

In 1989 I paid just $13,000 for a 1987 Mark VII. I was only 23. I began to get junk mail that started out "Mr. Bays, you've worked hard for your success..." Obviously that wasn't true. I added Addco swaybars, KYB gas shocks, and 16" tires, to help cure some of its "wiggly" handling. The 1988-up models had 16" tires, but mine came with the somewhat ugly disc wheels. I think you'll agree it looked better with the 2-piece ARE wheels shown below. I have found that 15 years later, Marks have a small enthusiast following, some of whom are young, and the KYB/Addco stuff is still very popular.

My Mark was blue, and had no options at all that I know of. It did have cloth-upholstered seating surfaces. That was an option, but it didn't cost anything.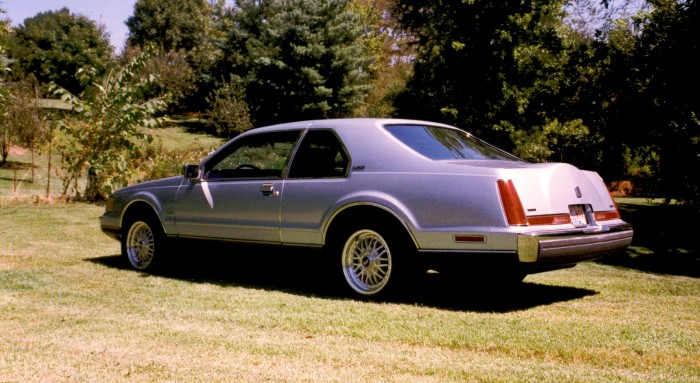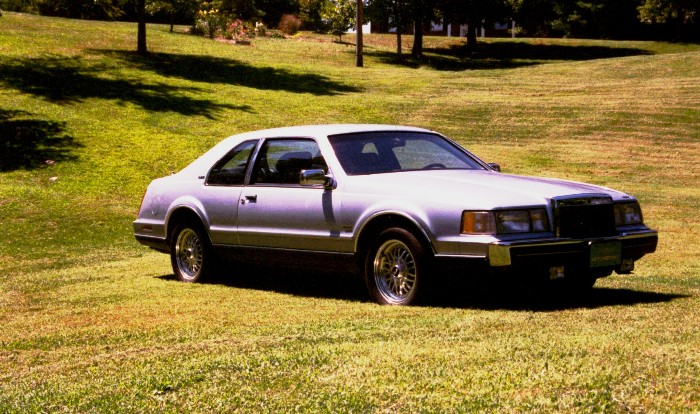 I wish you could see my front tag in this photo - its says "Lincoln Motorsport"
Performance Features

210 horsepower H.O. 5.0 liter V-8 (same as 1987 Mustang GT) with sequential fuel injection, roller cam, and stainless steel headers
Full dual exhaust with 4 catalytic converters and crossover

Automatic Overdrive

8.8" heavy duty rear axle with 3.27 ratio

Automatic leveling air spring suspension

Front (original) and rear (Addco) swaybars

16" x 7" two-piece wheels with 225/60HR16 tires

4-wheel disk brakes with antilock braking system

Analog gauges w/tachometer

Marchal halogen fog lamps

Power rack and pinion steering

Luxury Features

Power windows

Power door locks

8-way power sport bucket seats with power recliners, power lumbar support, and power side bolster adjustments

Leather interior with cloth inserts

Electronic climate control system

Tilt leather-wrapped steering wheel

Cruise control

Trip and fuel mileage computer

Ford Premium Sound System AM/FM cassette

Automatic headlight on/off

Automatic headlight dimmer

Power trunk release and pull-down

Heated, power adjusting rear view mirrors

Rear window defroster

Intermittent wipers

Power antenna

Keyless entry system

Overhead console with outside temperature and compass


This isn't my car but it has the right seats. Cloth inserts in leather.
From all this, I hope you can see that the Lincoln Mark VII was an attempt at the ultimate car. There have been many more since, and some a lot better. But, the styling of the Mark VII still looks great today, and it's just a really cool car all around.
Oddball features

This car had the Mustang exhaust with 4 cat converters, crossover pipe, and cute separate EGR crossover. However, welded on to both pipes were a pair of little harmonic dampeners. I laughed when I saw it (in spite of myself). There was also a harmonic balancer on the back of the transmission. I assume Mustangs didn't have these
Here's a lesson in advertising: The air suspension was Goodyear air springs. These were described in advertisements as "sensing the road and adjusting", but clearly they only adjusted according to the ideal gas law. I mention this because the Turbo Coupe's shocks, which had a computer-controlled variable orifice, really did adjust. The air springs are arranged so that diameter is roughly constant. In that case, Pressure is proportional to force and volume is proportional to deflection. So, PV=nRT=a constant, or (Force) X (spring height) equals a constant. This gives a non-linear spring rate, with the spring rate going higher as the spring is compressed. In a normal spring, Force = (Deflection) X (a constant).
Of course, the springs were auto-leveling, which meant you could lower your Mark VII in a few minutes by adjusting the height sensors with a handy screw driver. Or, if the bags burst, it became a permanent low-rider.
The gages were basically a tach with idiot lights, which is really odd. The Turbo Coupe was the same way. This car had a check engine light which was connected to the temperature and oil pressure senders in parallel. It was not connected to the computer. So, when it came on, the engine was either hot or had no oil pressure. I didn't find that very amusing, so I put an oil pressure gage under the hood. Ford changed this on later models.
Since it didn't have a "service engine soon" or other light that the computer could turn on, it couldn't complain about fuel injection problems. As it turned out, we never had any. I owned this incredibly complex car for six years, and it was never serviced for any reason. It was never hooked up to a scan tool while I had it.
The transmission tuning was pure Mustang. I didn't work in Ford engineering, but it just had to be. It would slam into lower gears in a very un-Lincoln-like way.



Funny stories about my Mark VII
Mark vs Seville
I also had a 1983 Seville that I drove to work. The styling was Bill Mitchell's "swan song", and it was the last GM styling idea that Ford and Chrysler copied. It stunk, but they were so used to copying they couldn't stop it. I think it was the car that broke their habit. These had the chopped off trunk, Eldorado front end just made for steer horns, and blockless washing machine engine that was a total pile of junk. The rest of the drivetrain was a chain-drive Toronado transmission coupled to the front suspension out of a 4x4 S-10 pickup. Basically it was a car I could park under an operating crane and not worry about it.

I almost never drove my Lincoln to work, but one day I did. A guy asked me which was the better car. I was shocked. What could you say? After a pause, I said this: "It's not a fair comparison. The Lincoln was designed to be the best car Ford could build using the best of everything they had available. The Cadillac was never intended to be a good car at all."
Missing the Mark
Not too long after this, on a beautiful sunny day I drove my Mark to the ol' chemical plant. At lunch, some peroxides uncontrollably decomposed in a nearby facility and the tank blew its contents all over my usual parking lot, ruining the paint and bright trim of hundreds of cars. HOWEVER, I had crossed to the other side of the plant to attend a startup celebration. My Mark had been spared. But it wouldn't last....
Where is it today
I had decided to keep it forever, but it was hit by a truck in Harrisburg, PA while I was at the AIChE officer's convention. We were on our way to take the Harley-Davidson factory tour (which I highly recommend). I had it fixed, but I decided to sell it anyway. I sold it in 1995 with 91,000 on the clock. The guy I sold it to kept it for a long, long time, but I'm sure it's worn totally out now. The last time I saw it, around 1999, the air springs had gone flat on one end.