1979 Lincoln Continental Collector's Series
In 2003, a large visitor to the Hoghead Garage introduced us to sumptuous 1970's luxury. The 1979 Collectors Series was built to commemorate the last of the really big lincolns. This car belonged to a long-time friend of the Bays family. Joe got the task of selling it for our friend since I'm a car guy. As you can see, it's a very sharp car. What you can't see is that all those 1970's gizmos work perfectly.

In terms of features, they are similar to the Diamond Jubilee Lincolns the year before. Ford seemed to experiment with outrageous luxury on the Jubilee, embedding a diamond in the opera window and including a monogrammed umbrella among other things. Those were all Mark V's, but the Collector's Series was available in a 4-door Continental as well as a Mark V. They were all basically alike, loaded with features, and usually white or deep blue with a gold grille like this one. Most Lincoln Continental options were standard, plus several unique Collector's Series features were added. These cars cost $17,000 in 1979 with no options (compared to $11,200 for a "regular" Continental). There is a nice article on this car with window sticker images at Classiclincolns.com. Apparently nobody really knows how many were made. Today, these cars are nearly worthless, but I feel like they're sure to recover value as they get older.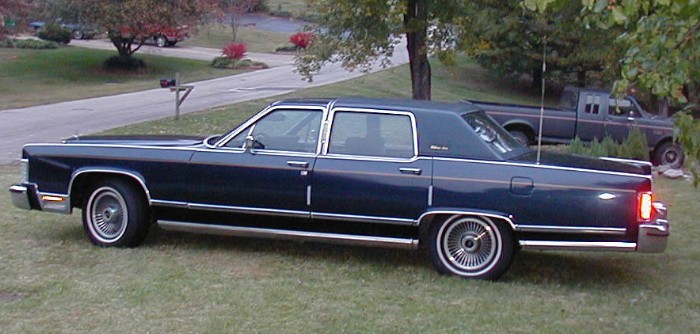 Honestly, I had a lot of fun with this car around the house, although it did take up a lot of space. It's fun to drive; the car is just huge. Driving is basically a silent experience; the noise of the clock is the loudest thing in it. If I had some American flags to stick on the fenders I could have my own motorcade. I felt just like Ronald Reagan was coming through the neighborhood.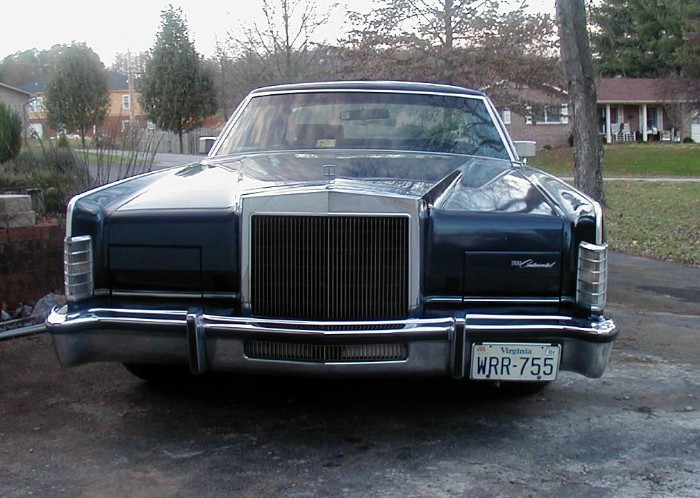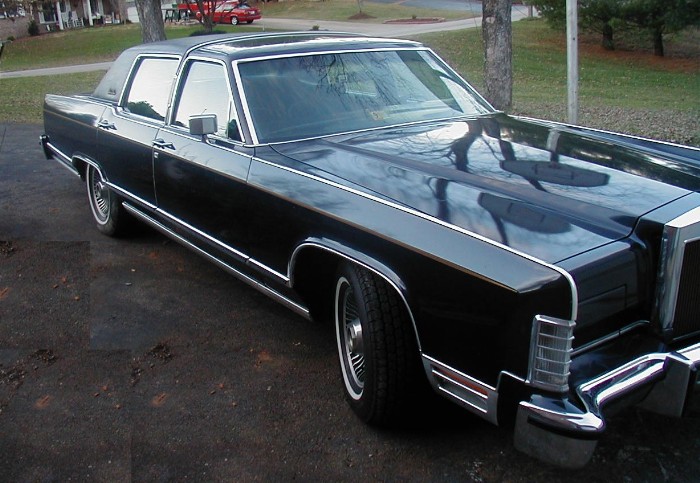 Features
Since it was a special edition, Lincoln wanted to endow these cars with the best stuff they had. This includes:
Air Conditioning with Automatic Temperature Control
Power Windows (6 of 'em with child lock)
Power Door Locks
Intermittent Wipers
Hideway Headlights
Autolamp System (automatically activated headlights)
Automatic Headlight Dimmer
Electronically tuned AM/FM/CB/8-track with foot control scan button (no kidding) This stereo was an extra cost OPTION on Collector's Series.
Tri-band Power Antenna
6-way Power Seats on Both Sides
Reclining Passenger Seat
Illuminated Entry System (courtesy lights are programmed like a modern luxury car)
Interior Light Group
Coach Roof with Special Side Lamps
Special Collector's Edition tool kit with Proto tools
Leather Owner's Manual Binder
Cruise Control with steering wheel controls (revolutionary in the 70's).
Tilt Steering Column
Cornering Lamps
Rear Defroster
Heated Remote Control Rear View Mirrors (they're cable operated, not electronic).
Color-Keyed Turbine Aluminum Wheels
"Cartier" signed Digital Clock which runs does not keep time.
Dual illuminated vanity mirrors
Unique cloth upholstery in Midnight Blue
Fine fabrics covering all the interior garnish moldings and headliner, also in Midnight Blue.
Unique 36 oz. Midnight Blue Carpeting (twice as thick as that used in other Lincolns.)
Matching Carpeted floor mats
Garage Door Opener neatly concealed in the sunvisor. (Beyond revolutionary in the 70's) This may well have been the first car with this feature. I just wonder if it will open any garage door openers made today.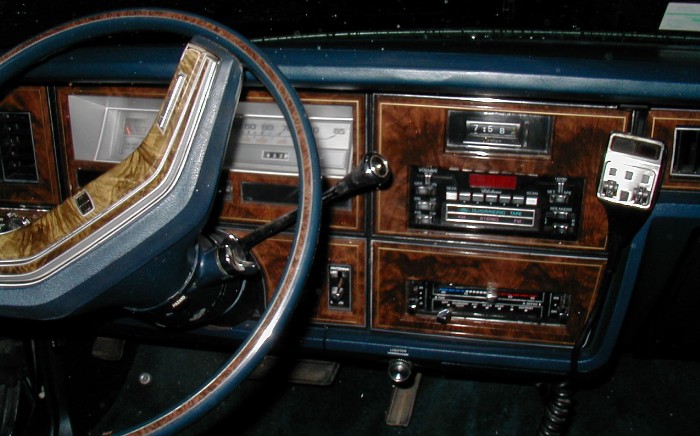 Today, some of the items are comically 1970's, like the 8-track/CB and the recliner on ONE SIDE. The radio foot control and automatic headlight dimmer is more like 1950's. I have to admit that the radio is fairly sophisticated. If you're listening to music and the CB together, the music will play on all four speakers, then switch to the rear speakers only when somebody calls on the CB. The CB call is then played on the front speakers.
The car also originally came with an umbrella, but I do not have it. As far as I can tell, the CB radio is the only option on the car. Other options that were available include rear disk brakes, a fixed moonroof (think 1953 Sunliner) and a retracting glass moonroof.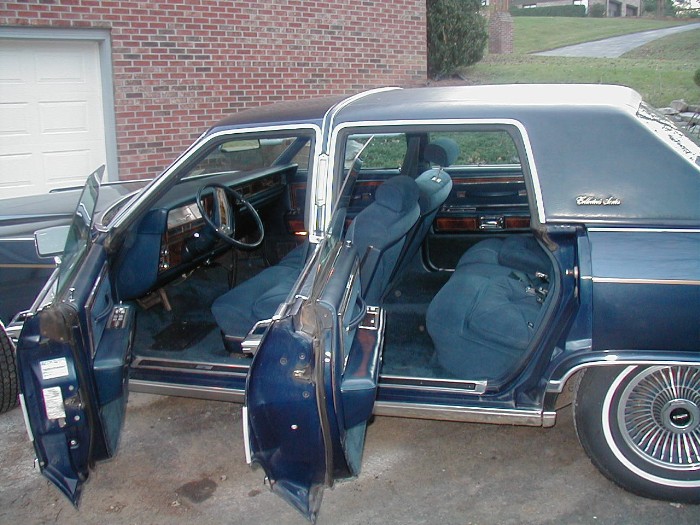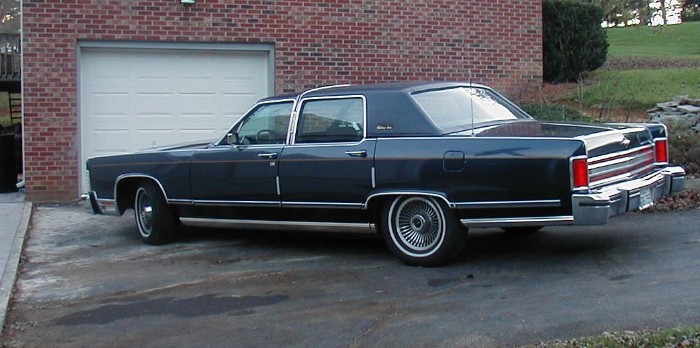 Mechanical
The 1979 Lincoln used a 2-barrel 400 cid engine, its only downer. It's too bad it's not a 460, but they were trying to give it better gas mileage. Trans Am fans will notice that GM A-6 compressor, which was common on late 70's Fords.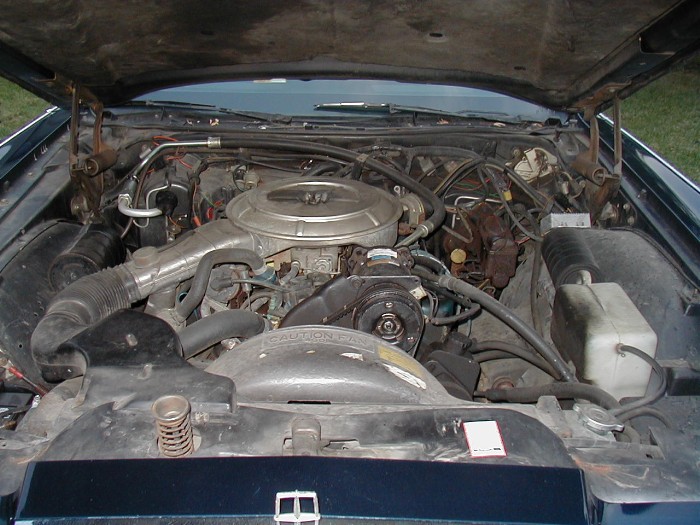 It had dual catalytic converters (wow!) and a C-6.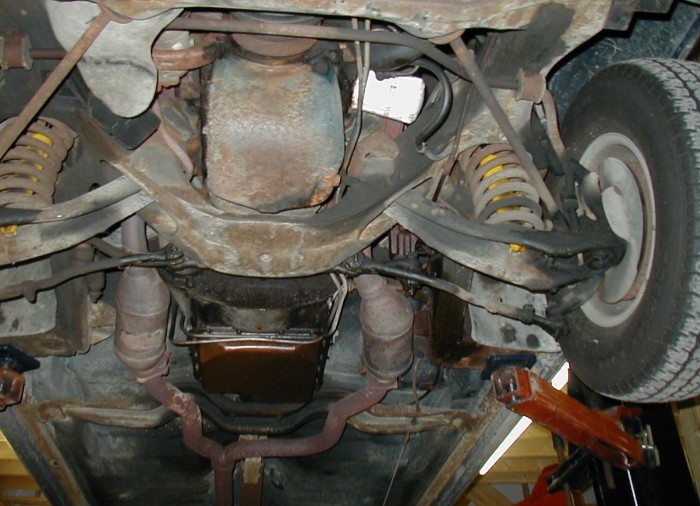 More Pictures
Here are some more views of the car and its special features. This view shows the upholstered trunk, which I think was optional on regular Continentals. The tool kit was a Collector's Series exclusive feature, although I think it was copied from the 78 Diamond Jubilee.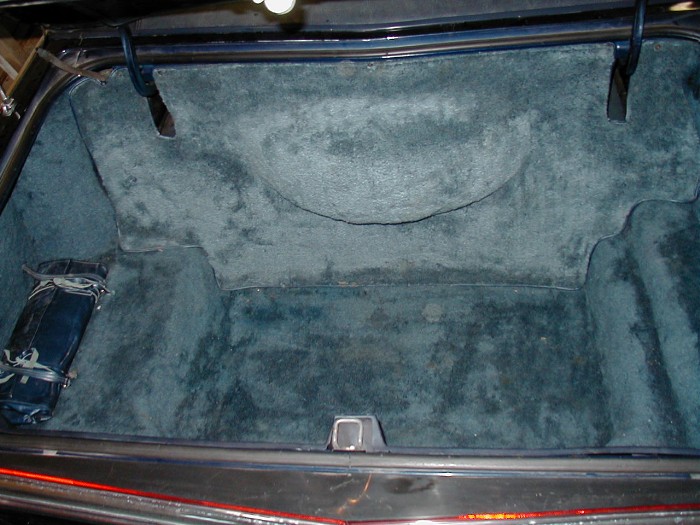 Here's a closer look at that tool kit. This featured Proto tools. From the enclosed card I found that everything was present except the original flashlight. Note the "Collector's Series" script on the screwdriver handle. Wonder if those 25-year old road flares are safe to carry around...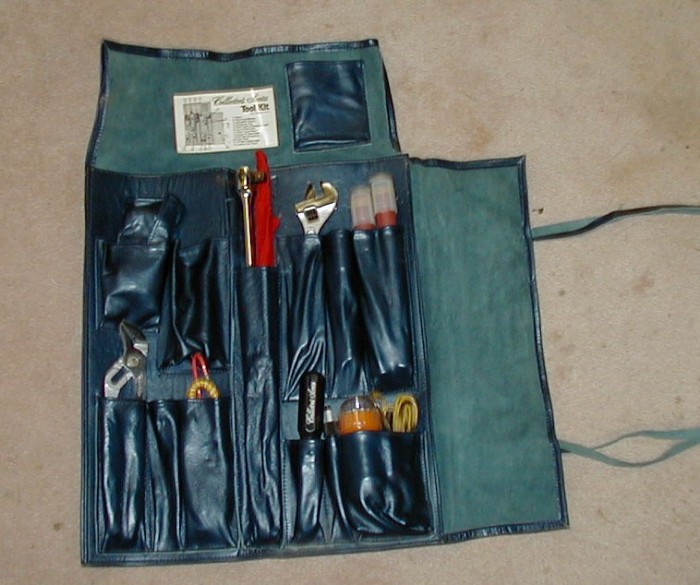 Here are the owners manual and warranty papers for the car. The leather owners's manual folder is another exlusive feature of the Collector's Series. This is usually referred to as a leather-bound owners manual in Ford literature but it's really just a folder. The original owner's warranty card (protect-o-plate) with these papers shows this was once a coal mining equipment company car.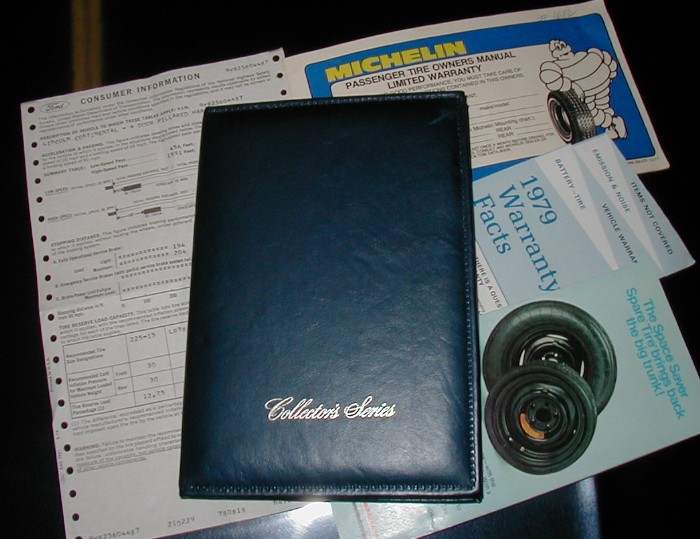 In Conclusion
I listed this car on ebay in December 2003 and it brought just $2600. Much to my surprise, I received emails from Switzerland and The Netherlands asking me to stop the auction and export it. I can't stand it when people cancel my bid and yank the car off ebay, so I had advertised ahead of time that I wouldn't be doing that. So in effect they both wanted to make a deal with me in which I would betray my word, which isn't very smart (of them). I asked both parties to just bid for it, but for whatever reason they didn't think it was worth over $2600. I thought the whole thing was pretty curious. If I think it's too big here in Tennessee how would it look in the Netherlands?
And, and Editorial

Here in the states, these cars are currently as worthless as they can get. Here are a pair I found sitting around town in more typical condition. The Mark V, at right and below, has been out in the weather forever and it's very shabby, especially inside. It's sitting the back row at an old gas station. At $21,000 each, this must have been the most expensive car made in the U.S. in 1979. It sure doesn't look it now.
Rare white 4-door Collector's Series, below, is much closer to nature, and rusting away beside Tennessee highway 75. The white ones have blue wheels and usually blue interior.

If this isn't sad enough for you, Classic Lincolns also has a Sad But True Lincoln modifications page, which is the kind of thing us Hogheads like. Check it out.