1977 Trans Am Special Edition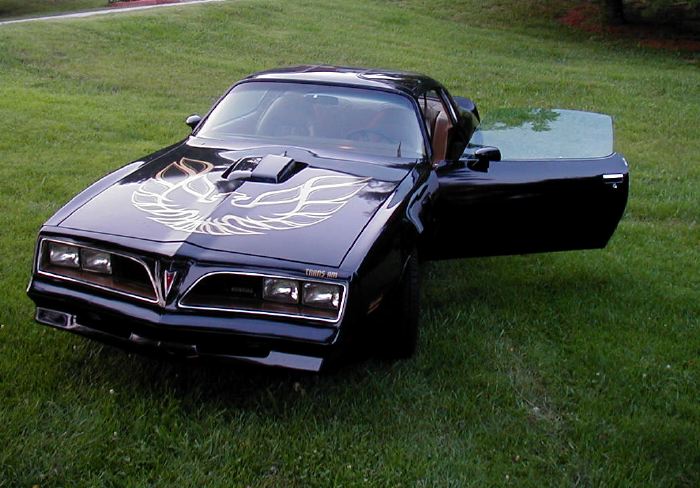 I purchased my 1977 Trans Am Special Edition in 1996, and sold it in August 2002. This was my first Trans Am, and owning it was sort of a life changing experience. I started selling Trans Am parts on ebay and eventually became very serious about building a collection. I have several other cars to restore, all more rare than my Special Edition with tan interior. This car never had a name, but for brevity we'll just call it Spot.
I don't know much about its history except that it sold new in Kinsport, TN and it is still here. The floors were replaced before I got it. T-top leaks probably got the carpet wet and rusted from the top side. That is pretty typical with Hurst T-top equipped Trans Ams.
The option list on Spot is quite short. Originally, it had:
Optional white letter steel belted tires
Air Conditioning
Custom Seat Belts
Floor Mats
Deluxe Interior
Tinted Glass
AM/FM Stereo
8-track
Y-82 Special Edition Package
Door Edge Guards
The MSRP was $7,877.66, and it was shipped to Hurst and invoiced to Don Hill Pontiac on 12/16/76. I added a tilt steering wheel, slap shifter, a full size spare, some of the original deluxe sound insulation, and a trunk lamp. It came with the 8-track still in it, and I eventually tracked down an original radio for it.

When I got it, both S.E. emblems were missing. I went to the Charlotte Autofair in 1997 looking for these emblems. To get the emblems, I bought an entire slap shifter and an entire tilt steering column out of a 4-speed Gold Edition (I'm not kidding). Eventually I put both items in the car, and became very glad the sellers wouldn't separate the emblems for me in Charlotte. The Gold Edition steering wheel, naturally, became part of the decrepit steering wheel collection.
Inside: A Y-82 with Buckskin Interior

Tan is the second most common interior color for Bandit Trans Ams (after black). Over time, I learned to love this interior. It's a two-tone interior. The seats, door panels, and headliner materials were a light color that is properly called "light buckskin". The dash, console, kick panels, rear package shelf, and lower seatbelt reel were a contrasting color called "dark saddle" in the parts books (it's not really that dark). It's called "dark buckskin" on my build sheet. The kick panels tend to fade a kind of dark brown.

During 2000 and 2001, I tried my hand at upholstering and restoring the original colors of the interior of my Trans Am. I ordered Z36 seat upholstery from Ames (made by PUI). They call this "saddle". Initially, I had no idea of the correct color for all the stuff I was buying. You can see how the new seats shaped up on my website's seat page.

This car still has the beautiful original dash and kick panels. I replaced the package shelf, headliner, console box and lid, and several small items. Color matching was a problem, because people like Ames, Year One, etc. didn't even know what to call the colors in my interior, and here was basically nothing available in either color anyway except for the seats. I found that Camel Tan was reasonably close to the new Z36 vinyl that was on my seats, and I used the Ames tan headliner. This stuff is all a lot darker than original Buckskin seats, but they do fade.

Dark buckskin was an even bigger problem. I had the paint code, but my paint man can't mix it from the code. I bought off-the-shelf SEM color coat 15033 (light saddle). It's close. For my package shelf I bought a classic industries "light saddle" and it's also close. I painted a single NOS speaker grille and put it on this package shelf, and it looked pretty good.

This photo shows how well the Buckskin interior looks on a Bandit Trans Am. The dark gold on the decals matches the wheels and grilles, while the light gold matches the interior.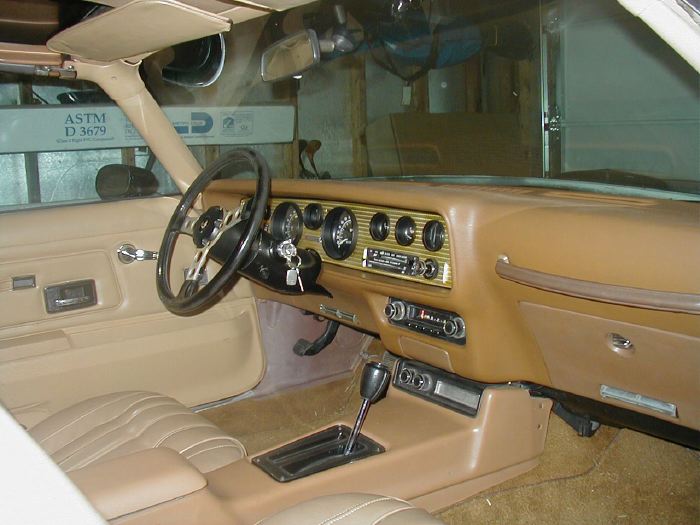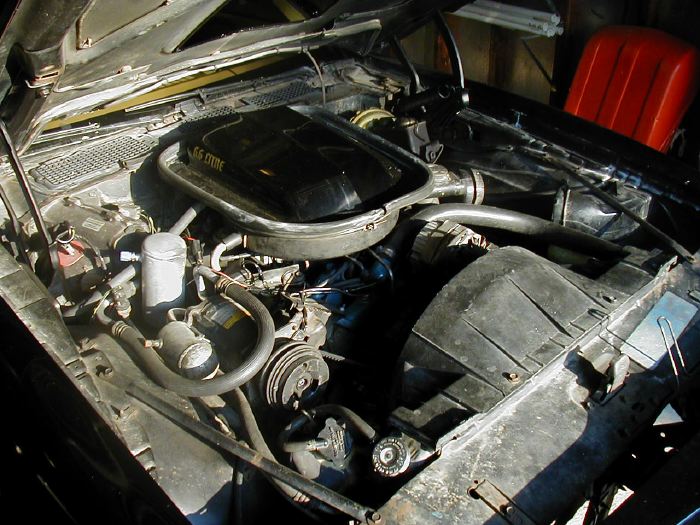 Mechanical
Previous owner claimed that he installed a factory rebuilt short block (like a Jasper or something). So the numbers didn't match, but I never had to work on it. I drove it to the 2001 Trans Am nationals in Dayton Ohio, and later on a joy ride to visit a Trans Am collector in North Carolina.

I restored the original wheels in a multi-year project. They've been stripped, painted, polished, and clearcoated. These are mounted with brand new 255/60R15 BFG T/A's. The center cap emblems are new. These big tires can rub a little bit when I back out of the driveway.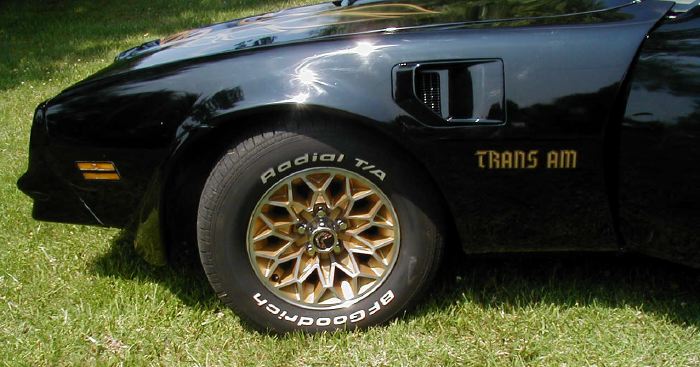 Trip to the Nationals

August of 2001 found me staying up all night painting my wheels. We stuck the hood bird on it Monday before the Trans Am Nationals.

I had 3 goals: The first was to get there and back under my own power. The second was to put in stock class C, even if I was the worst car in class. Third was to have a good time. This photo shows us at the Cumberland Gap scenic lookover (under our own power)
You can't be in Class C with two back speakers

Here's my car in stock class C at the Trans Am nationals beside two awesome 1979 W72 Formulas. My car has no chance of competing with the awesome low-mileage and restored cars in this class.
Here's my car at the motel Sunday morning, being rained on with 4 other special editions. For those of you that have never been, this is what the motel parking lots look like at the Trans Am nationals. I don't have reason to use this picture here, but I just like it a lot.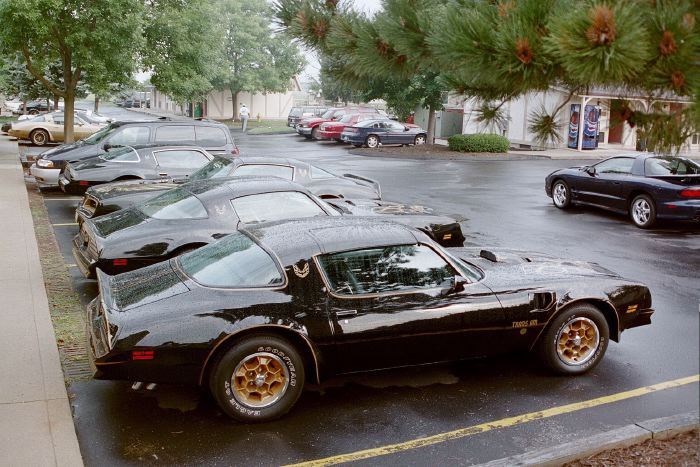 Back At home
They say black cars look better in the shade, but I'm not sure. What do you think?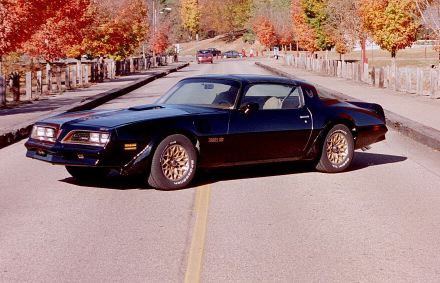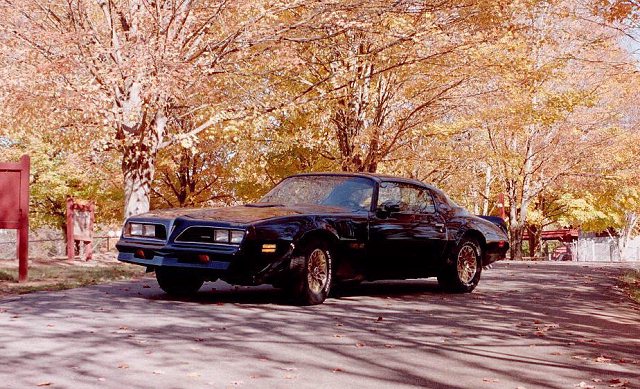 I listed my Trans Am on eBay in late July 2002. 2 weeks later, it was GONE!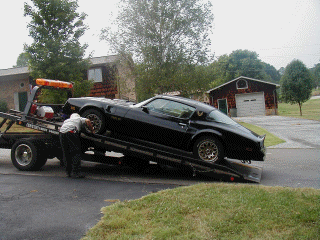 Documentation:
For those of you that, like me, are interested in this sort of thing.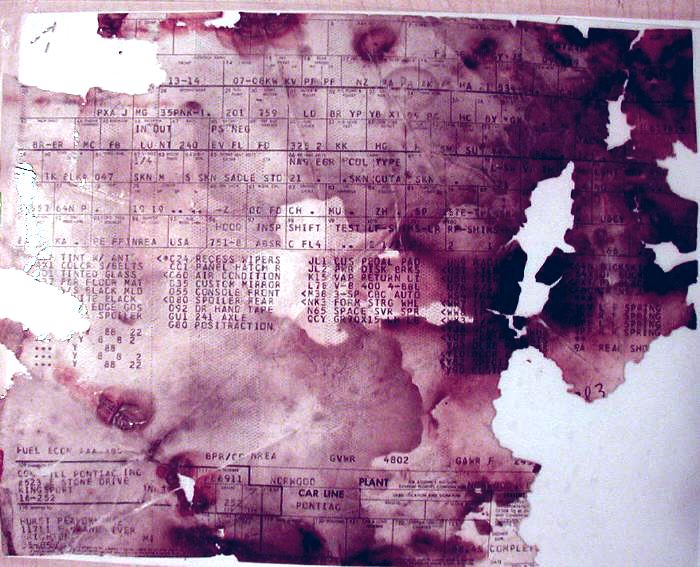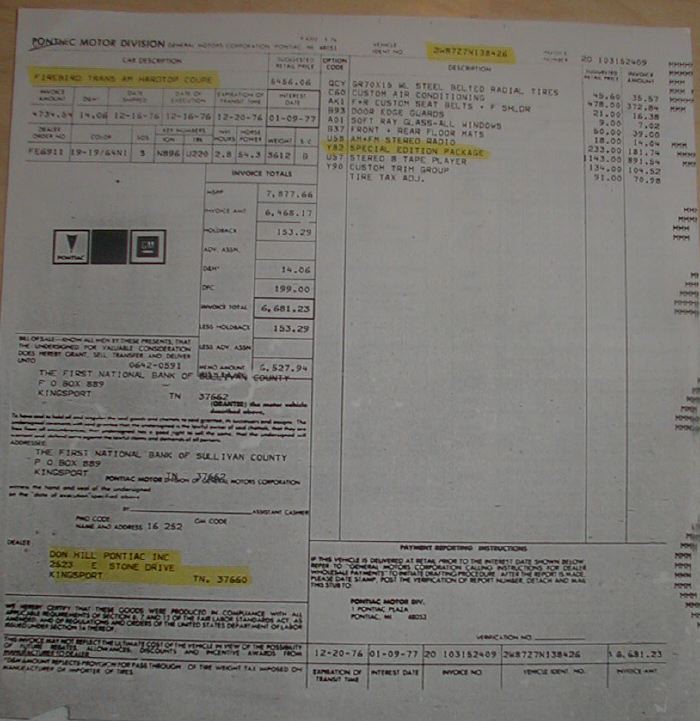 After being sold on ebay a couple more times (with descriptions like "mint, perfect") this car eventually came into the hands of Trans Am Specialties, who painted it (which it desperately needed).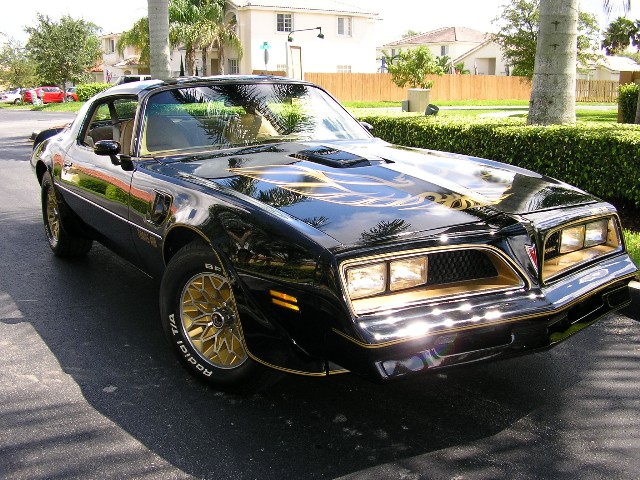 Where it is today
Believe it or not, my old car now works in Ireland picking up brides on their wedding day.
It was sold by the Trans Am Specialties business to these guys: Star Car Hire UK