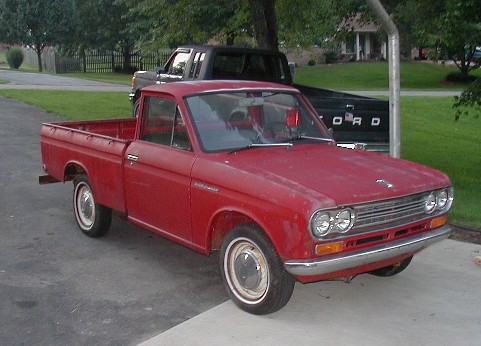 I just bought Godzilla in July, 2005. Testing the boundaries of coolness, this bulldog-ugly creation is a 1970 Datsun PL521 pickup. The styling is right out of a Godzilla movie, and the performance, with 96 gross hp and a 4.375:1 rear axle, is glacier-like. But I love it!

My father bought a 1967 model in about 1971. It was the first Japanese car I had ever seen. The Japanese car manufacturers had started in California, and sold their way east until they covered the whole country. 1967 Datsuns as far east as Virginia were very, very unusual.

While I'm a major purist when it comes to Trans Ams, I'm totally the opposite about stuff like Godzilla. Although, this truck is so original it is going to be hard to modify it. Look at those hubcaps!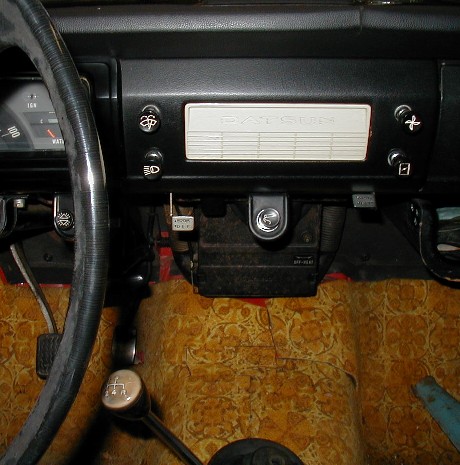 In Wendy Bagwell's famous story about "Ol' Ralph Bennett's Volkswagen," he said "the knobs didn't have no words on 'em. They all had pictures on them, but you couldn't make out what they meant. At least we couldn't". I still remember that exact same experience, even though I was only about 5 or 6 years old. I hadn't ever thought about what a picture of a windshield wiper might look like, and so I wasn't prepared for that day.

Most of us kids learned to drive in our little Datsun. It was made for Japanese-size people, so you didn't have to be very tall to drive it. Later we bought a 1971 with factory A/C for my sister to drive. It looked identical to this 1970 model, but was blue. I drove it a lot more, and that's the one I really wish we had back. So for me, Godzilla is very nostalgic.

Check out that groovy carpet. Yech.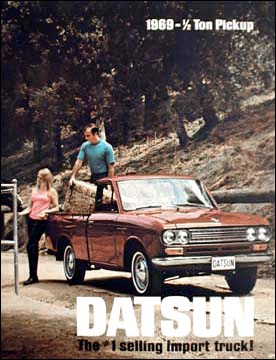 So far, I've gotten it running and replaced the plugs, two of which were fouled out. I managed to get the idle circuit on the carb adjusted. It runs okay right now, but it needs some excercise, and I expect to go through the brakes soon. Before you can't any more parts, preferably.

We've bought 50 Trans Ams, and 1 Datsun. This is the first Datsun 521 that I've found for sale in about a decade. I hope to be able to drive it regularly without too much work. It needs paint, but it's not rusty or beat up, so that shouldn't be much trouble.

Well, fast forward nearly 8 years, and I did enjoy driving this truck nearly every day during that period. It's been a joy. When Hurricane Katrina struck, and gasoline went up to $4, I just stuck a tag on it and drove away with no other preparation. It gets about 26 or 27 mpg. I never get salt on it, but otherwise it goes every day. Maintenance to date has been that I purchased and wore out a set of high performance sumitomo tires that they don't make anymore, did a full brake overhaul, replaced the original shocks, and just recently replaced the plug wires, points, condenser, cap and rotor. No other repairs. Amazing, isn't it? I have decided the time has come for paint, in February 2013. First step was dismantlement to get everything cleaned up. The truck is incredibly solid.

"Type R" emblem ads 20 hp. I bought it in Taiwan. I looked all over Taiwan for an LED animated light panel that looks like a Taiwanese walk/don't walk sign. I saw those in other people's cars, but I never could find one.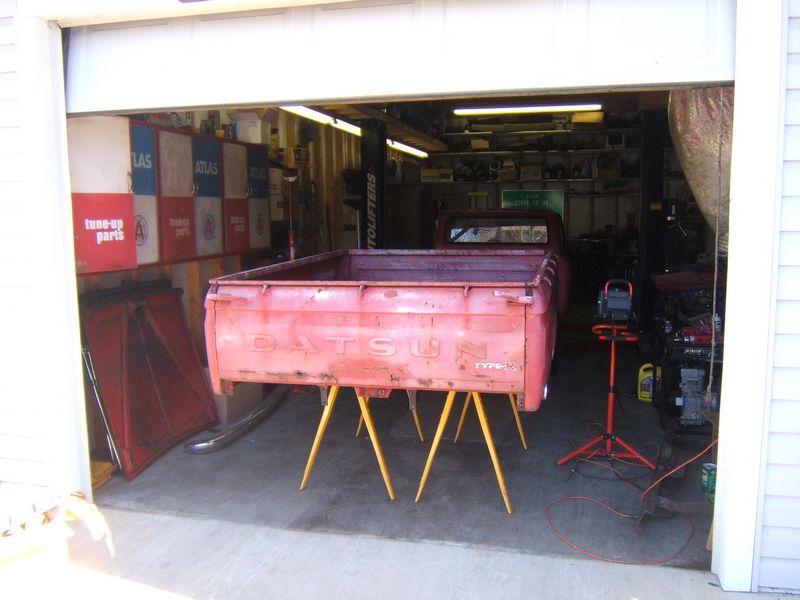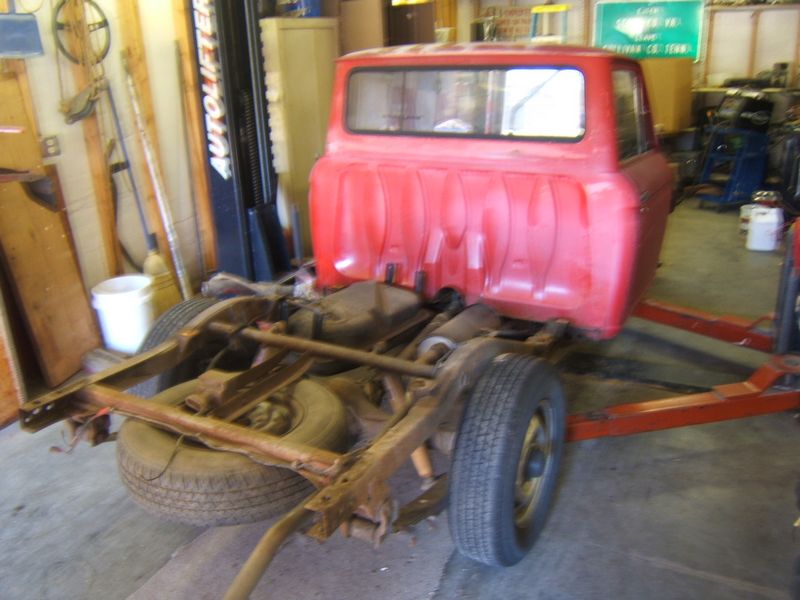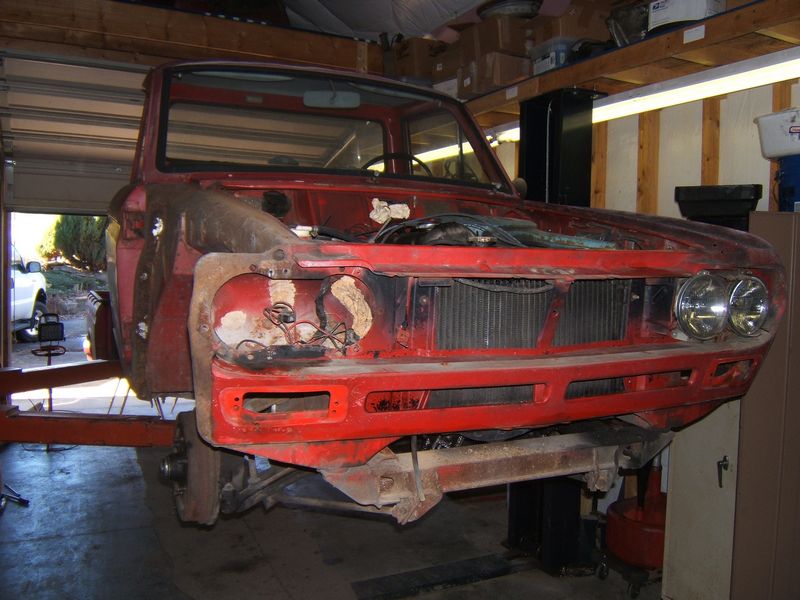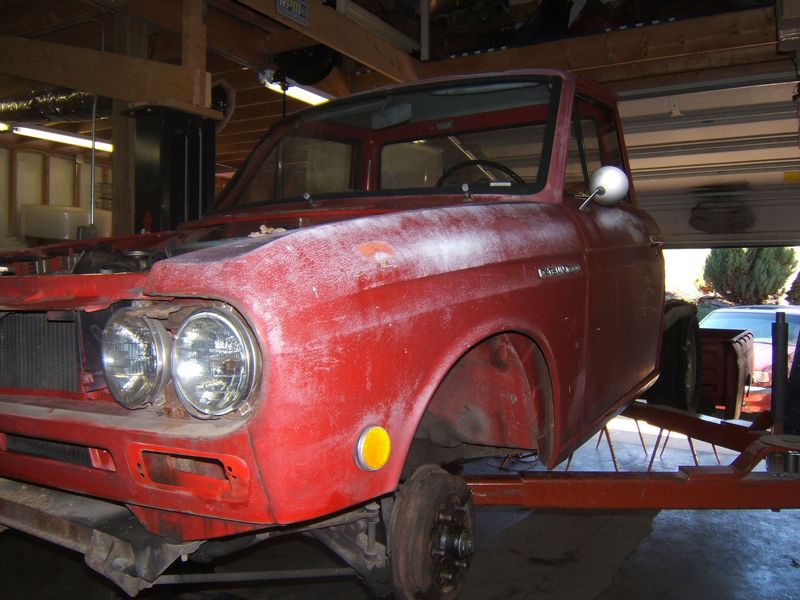 Rust hole - driver's side rocker panel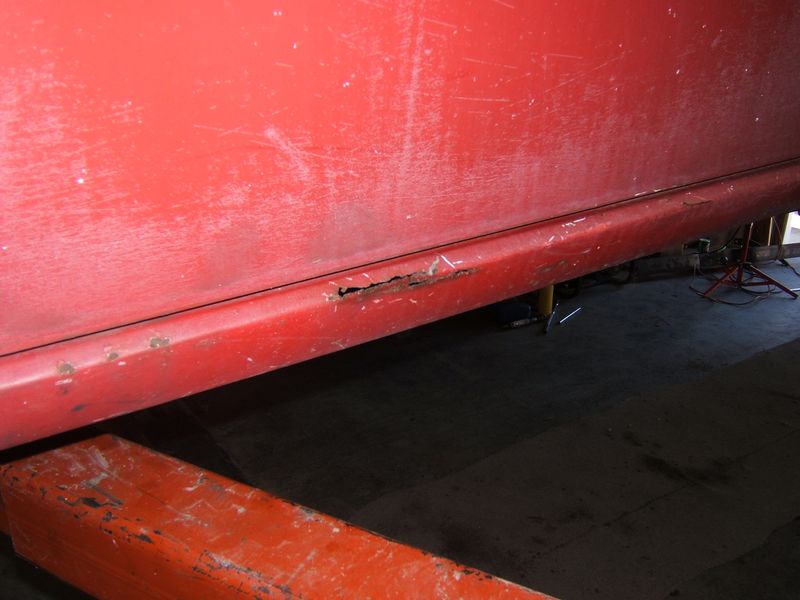 Additional rust in the rain gutter structure at the cowl. The hood hinge is loose in the front.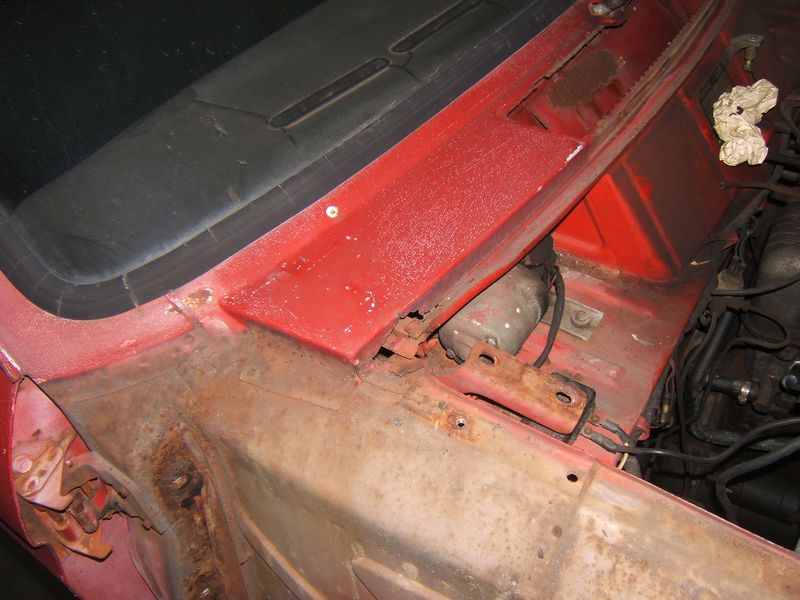 I am thrilled with the condition in most areas.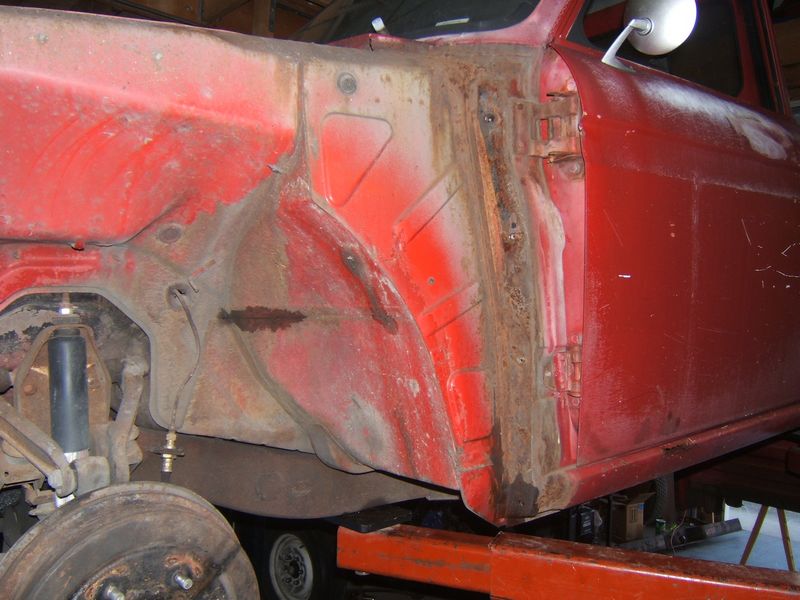 The truck needs kingpins, and it looks like right now would be the time to fix that.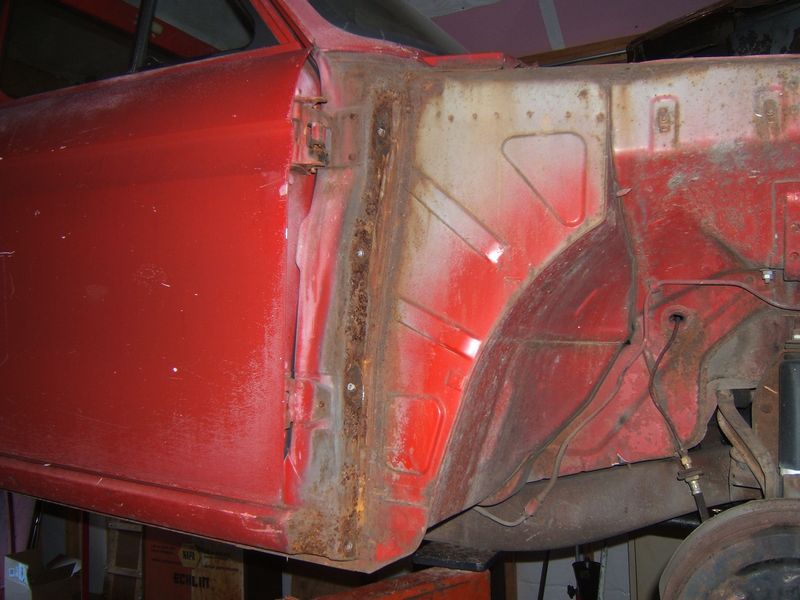 Cute, huh? A few areas needed a bath, so I kept the fuel tank hooked up and drove it outside.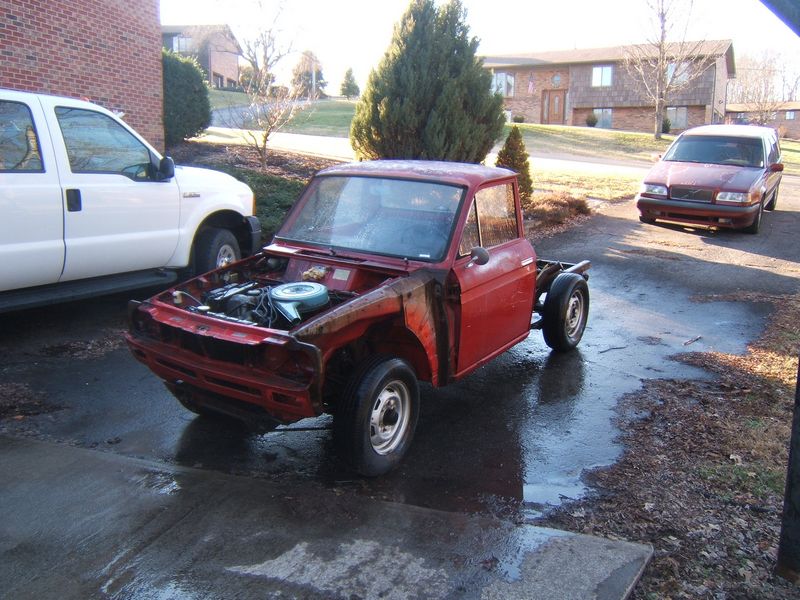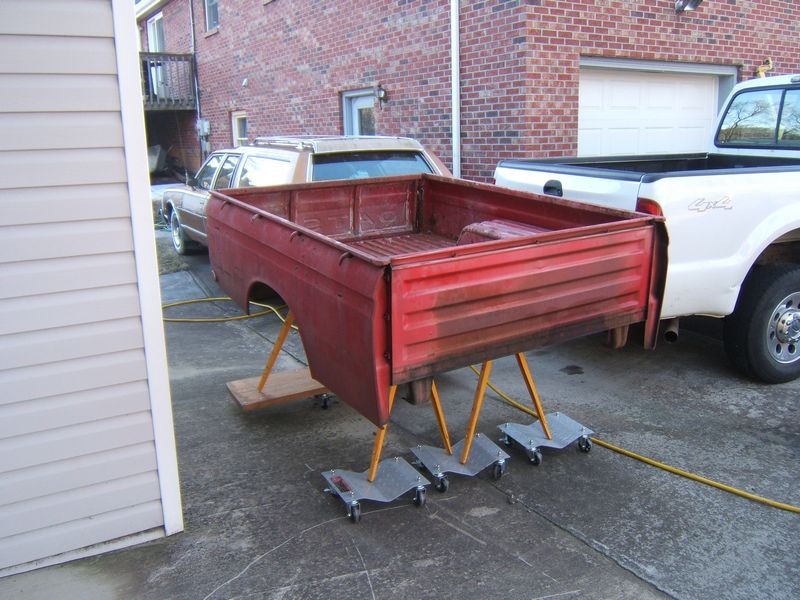 There is some rottenness in the tailgate, but not too serious.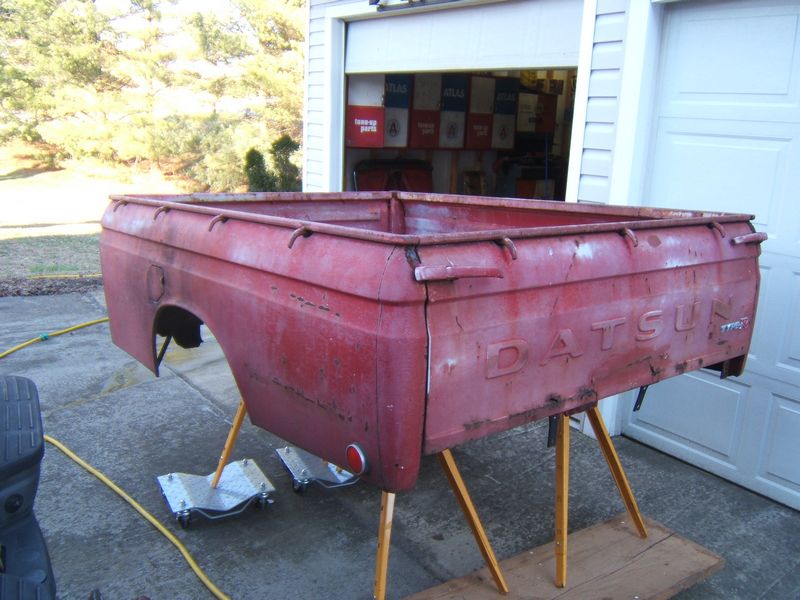 The truck is incredibly straight, but there are a few stretched areas in the bed, where objects dented it from inside. I am going to hammer and dolly this as well as I can. I know that filler in the bed is just asking for it to be knocked out later.
Using my lift for a rotisserie, I have started removing paint. I'm moving so fast I am just a blur.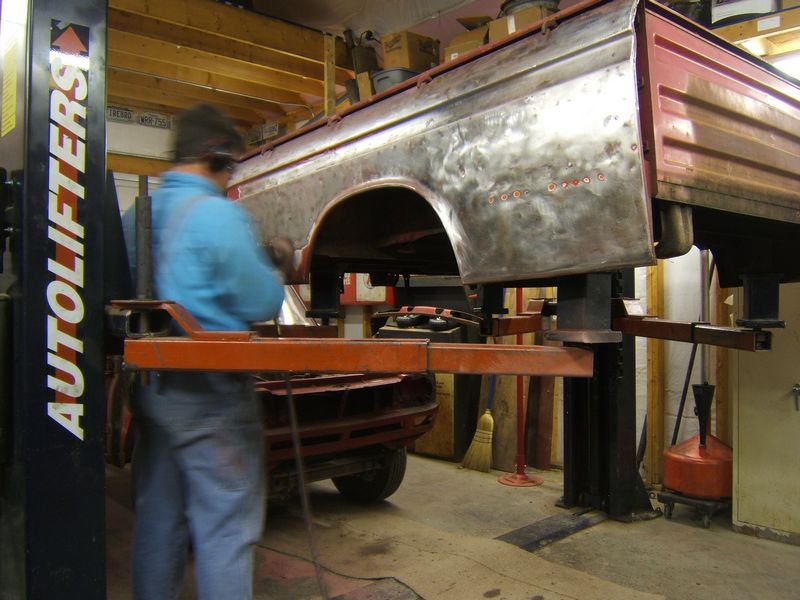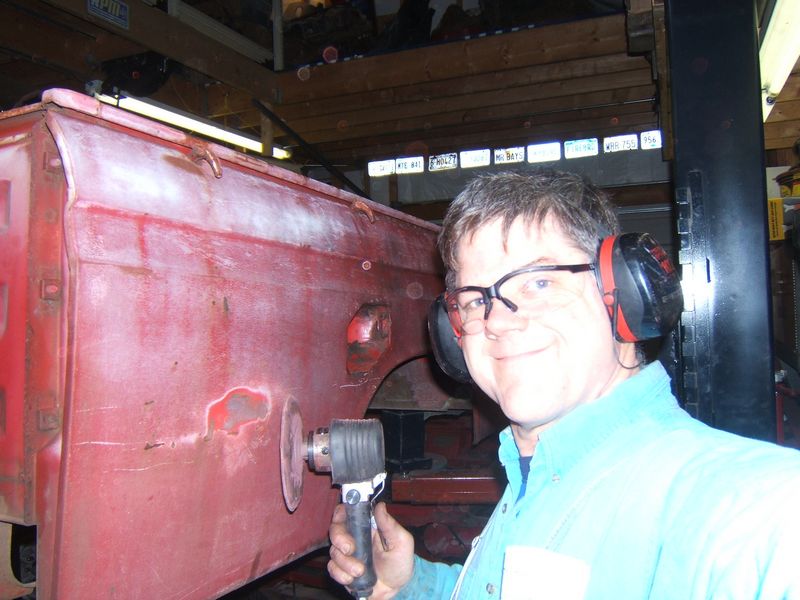 I cleared off this spot to show the original Datsun color. Also, it shows that the original paint is still sound. The newer paint was on top of a white sealer. I don't know the history of this newer paint, but it just fell apart.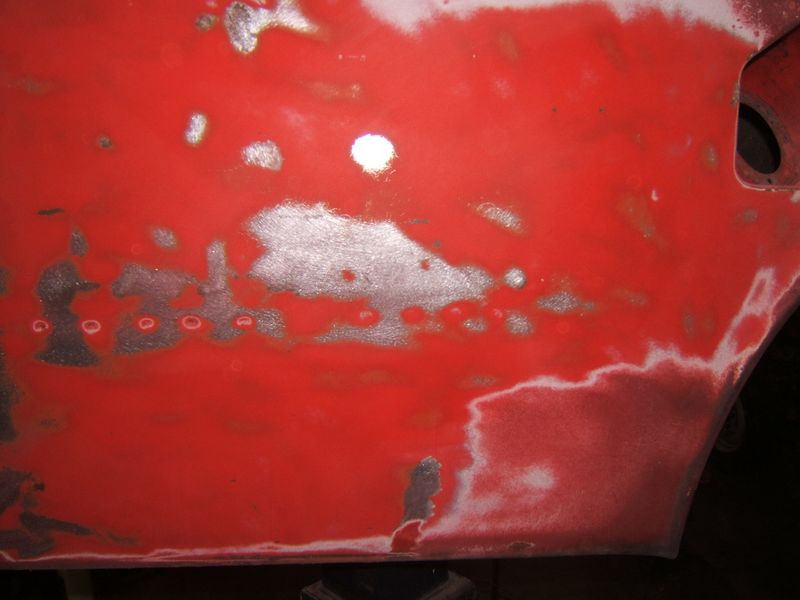 The tailgate is about the worst panel on the whole body. It has had previous rust repair, the only one on the whole truck. The tailgate on a 1970 Datsun Pickup is non-removable. It has basically door hinges with the pins staked in. I had to make some destructive mods to get this thing off.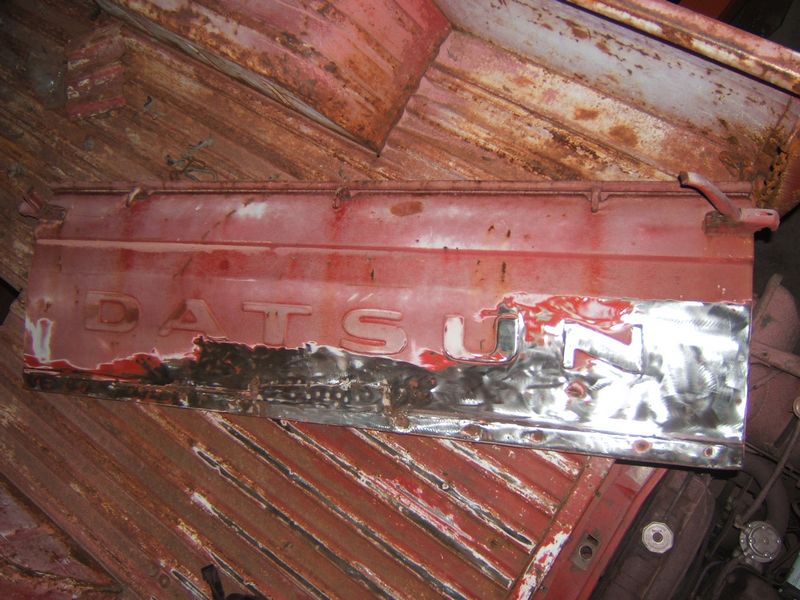 Iv'e decided while the fenders are off, and there's no paint to scratch, I would take a couple hours to fix the kingpins. I will make that a sidebar separate page here