Dutch: 77 Y82 Trans Am
The 4-speed ride with the red inside
I bought Dutch on ebay in March 2002. I hadn't learned my lesson about ebay. In this case I was very happy with what I got. It's a 4-speed Special Edition with red velour interior and no A/C. Since this car has red velour and a 4-speed, it could easily be the only one left so equipped.

It's very complete, original, and in good condition except that it's very rusty in the back. It deserves to be restored, but the rear structure is beyond help (see below for the solution).
As you can see, Dutch is still wearing his original paint. The red interior doesn't harmonize with the flashy SE exterior like the buckskin does. For that reason, it is very rare. Maybe it's a love it or hate it kind of thing. The red and gold look great together, but the red and black don't do much for each other. The red velour is a very attractive interior.

As if he's not already unusual enough, Dutch was built with the 78-style shaker (still on the car).

Like Burt, Dutch is also from Pennsylvania.
Here's the buildsheet: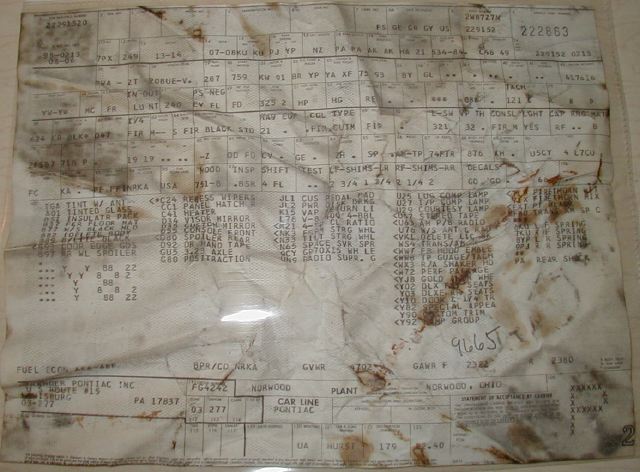 I am happy to report that I have located some good sheet metal to fix Dutch. This stripped 76 Trans Am hull came from Pennsylvania, and is virtually rust free. I don't know its history at all, except that it was torn apart by somebody who wanted to build a race car. It was advertised on classicalpontiac.com this spring, and this is all that was left when I picked it up on May 3.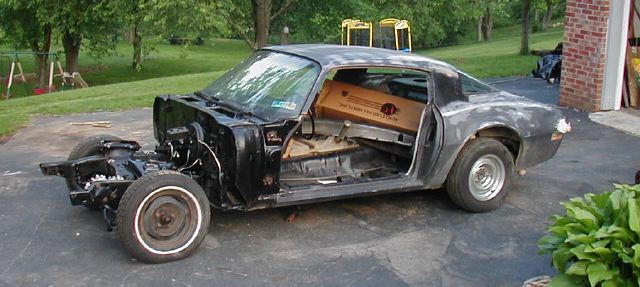 This had been a silver 76 Trans Am with 4-speed, black interior, and air conditioning. Based on what I got, I suspect this was a garaged, low-mileage car that has effectively ceased to exist through a series of bad (for the car) decisions. I'm not complaining, because I think I have the potential to turn Dutch into a really first class car without a lot of welding. Even though this shell is more like Burt, Dutch is a higher priority right now.