With this year's huge crop of new releases, the exciting Camaro and Challenger show cars, and Joe's looming 40th birthday, it seemed like a good time to take in the Detroit Auto Show which is formally called the North American International Auto Show (NAIAS). We thought maybe we could catch some of the current excitement about cool cars, eat some good food, and meet up with old and new friends. It was all that, for sure. If there's one thing that's fun about this show, it's that Detroit absolutely goes nuts about cars. The newspapers, local TV news, and all the talk on the street is about cars during this show. It's a rush.
| | | |
| --- | --- | --- |
| | Just being in Detroit is a big thrill to country boys like us. Where else on earth can you see stuff like a '57 Chevy stretch Limo and a giant tire beside the interstate? | |
| | Then there's things like Cruising Woodward Avenue... And Livernois Avenue. Of course, on our road trips, it's Spleen Noise Boulevard you've gotta look out for. | |
The show is so over the top, it's just ridiculous. No expense is spared on the grandeur of it. I read in the paper that it costs $200 Million, and brings in $600 Million to downtown businesses. This just a month before the Superbowl about 3 blocks up the street.... Detroit is not feeling the post-Christmas business slowdown...
Big Screen TV's abound in these displays, along with all manner of floors, walls, and ceilings installed inside the convention center.

The show begins with media days, with all the formal press conferences and model introductions on a stage. After that, there is a black tie charity ball at the show. The locals cover this on live TV, from beginning to end. Then, the next morning, they throw the doors open and the public goes pourin' in.
So, enough about the decorations. I suppose if you clicked this, you want to see the Camaro, right? So here it is. Click on any of these for a larger version.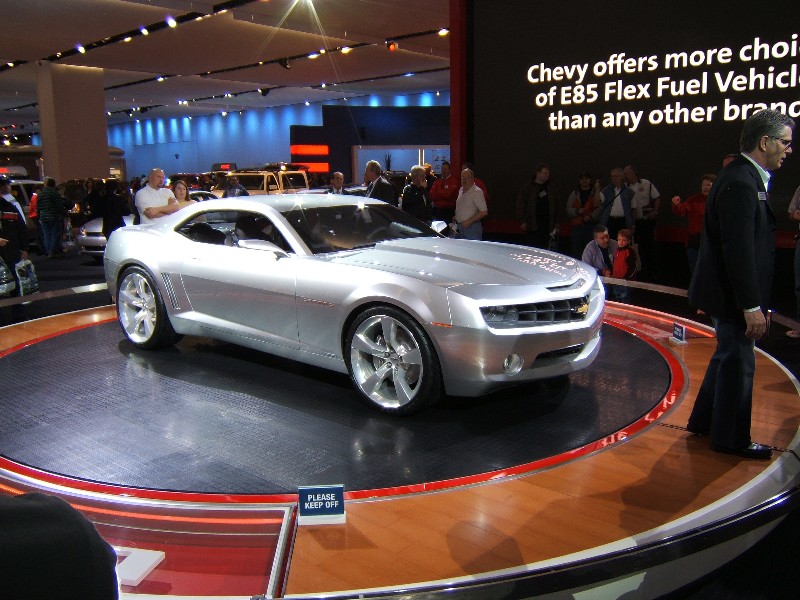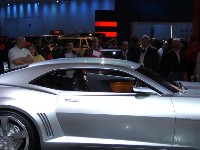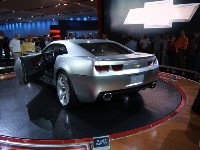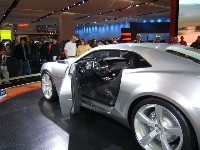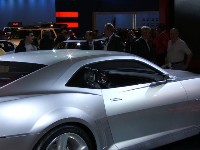 Here's my 2 cent take on the Camaro: It looks like it was designed by a committee. GM's press about the designers pretty much confirmed that. The rear end is a Corvette. The sides and the color were done by whoever controls the current Cadillacs. The roof is designed to make it look so much like a Camaro. The grille and the interior are the retro part.

The proportions are very Camaro-like in front of the rear axle. Behind that, it's chopped off about a foot short. The C-pillars come right down to the taillights. I like it a lot, but the back end is my least favorite part.

Note: I have Camaro Brochures from the show! They are $5 plus $1 for shipping. If you're interested contact me at joe@firebirdtransamparts.com

Everybody at the show was of course comparing the Camaro to the Challenger. So here it is. Once again, big versions if you click: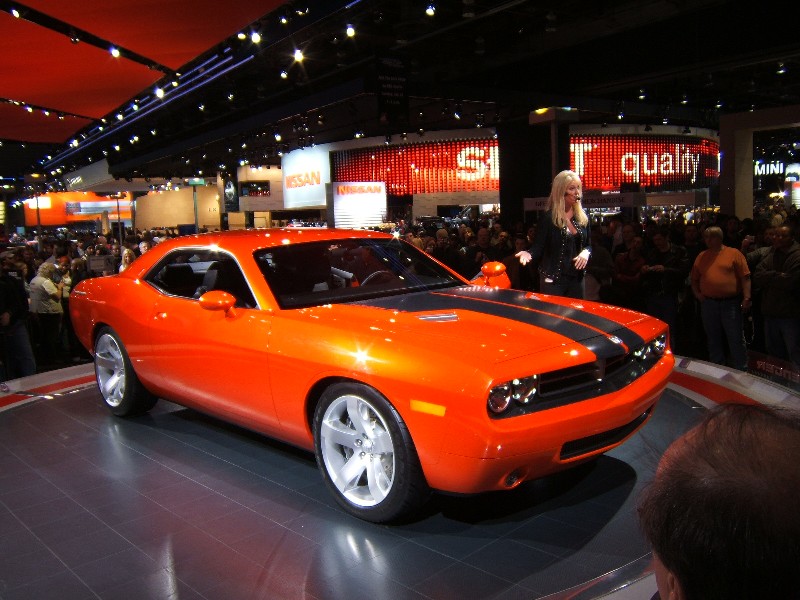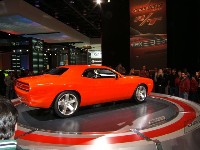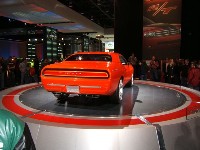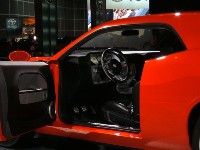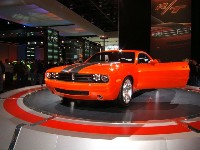 Here's my 2 cent take on the Challenger: It is designed to look as much like a 1970 model as possible. Chrysler obviously didn't feel constrained to attempt a "modern interpretation." They produced a near-clone that somehow looks even better than a real 1970 Challenger. Now, the question of who's right is a tough one. Very tough.
Right now, the Challenger would be a huge hit. However, by the time they get it out, the retro fad may have faded. I'm sure they are pondering whether young guys would want a totally original looking Challenger. If you've seen any of those over-50 fat people driving Scions, you've probably figured out that auto designers really struggle with age questions.
Ford Highlights
I'm putting Ford first so we can get to the Super Chief. Plus, they have the best ceiling decorations. No kidding.
| | |
| --- | --- |
| | Ford's giant concept pickup was very impressive in person. It's so big, that you have to back up to take a picture. When you back up, people get in front of you. The Super Chief looks awesome to me. It's basically a chopped F-250 with 22 inch tires. Additional restyling is pretty mild, but very effective. |
| | |
| --- | --- |
| The interior is pretty neat too. The rear seat has a bar and a humidor in the console, and flat screen TV's hanging from the roof. Footstools, powered in the show version, wouldn't be too likely to show up in production, but they do look comfortable... | |
Ford's other concept cars and 2007 model introductions included the Reflex, Edge, and Shelby Convertible (which we didn't see - maybe it fell off the truck).
| | |
| --- | --- |
| | The Reflex is a sporty coupe with some fancy-shmancy power plant that runs on flowers. This is just a concept for fun. Chrysler already has a car on the market that's very similar, and it's not doing very well. |
| | |
| --- | --- |
| We did at least get to see the regular Shelby. It's an exciting car, and generally had a big crowd around it, even though we've all gotten used to seeing un-shelby-ized versions of this beautiful body on the road. | |
Notice the wall behind the Shelby and also in the background of the Super Chief photo. These walls were basically huge TV's made out of individual multicolor LEDs. I was impressed. Sometimes they just had wallpaper, like in the Shelby photo, but sometimes movies were playing on them.

I failed to photograph the Edge, so here's a stock photo. I apologize to worldcarfans.com.
| | |
| --- | --- |
| | The Edge is a crossover utility vehicle based on the Mazda 6. It's pretty big, and could replace the Explorer, but I have no idea if they actually intend to do that. At Lincoln, a version of the Edge does replace the Explorer-based Aviator. |
Like a list of sermon points, Ford is obviously working on getting all those products started with the same letter. Their SUV's start with E - Edge, Escape, Explorer, Expedition, and Excursion. The cars start with F - The Focus, Fusion, Five Hundred, Freestyle, and Ford GT (below, with its powerplant). Look for the Crown Vic to be renamed. The Mustang is kinda sacred, and it can't renamed. If you've been wondering whether the Fusion or the Five Hundred replaced the Taurus, the answer is they both did.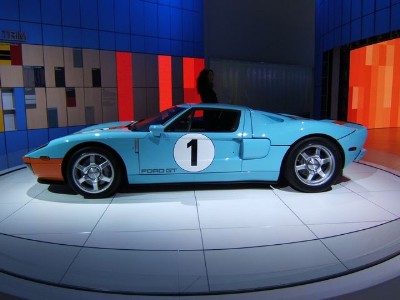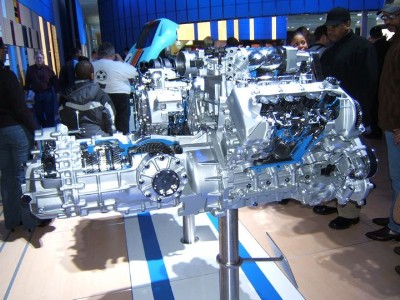 Over at Mercury, where all the products start with M, the big news is the Mercurization of whatever Ford is coming out with. Mercury has its own version of most new products coming from Ford, including the Escape Hybrid (which they call Mariner Hybrid). Hybrids are a big emphasis for Ford right now, and in fact that was the big technical "Gee Whiz" thing at the show this year. The Escape/Mariner Hybrid Drivetrain (below right) seems to have two motors, or else a separate motor and generator.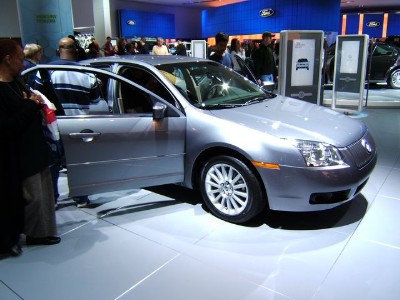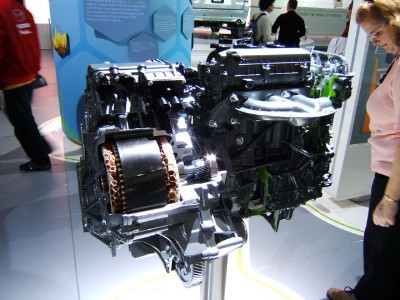 At Lincoln, There was a new 2007 product and a concept car. The 2007 product was the MKX (Mark X). The MKX is a Lincoln version of the Ford Edge, and it replaces the Aviator. I had seen this grille on a concept car (truck? Van?) but I didn't think they'd actually use it.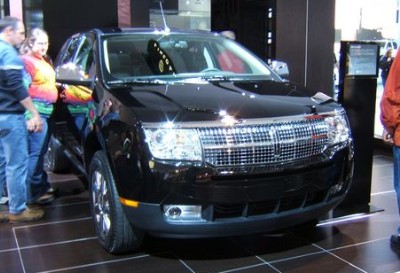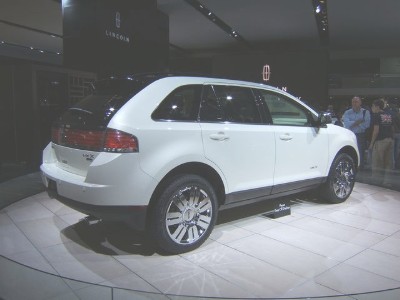 The concept car is called MKS. This looks very close to production. The new Lincoln Zephyr is a version of the Ford Fusion. It makes sense that Lincoln could use a larger new car, between the Zephyr and the Town Car, which would be based on the Five Hundred. I suppose this is it.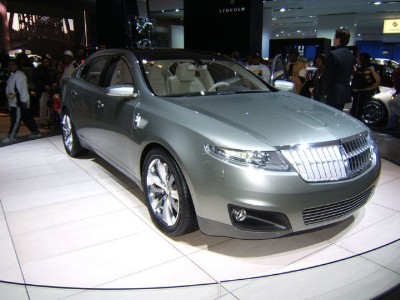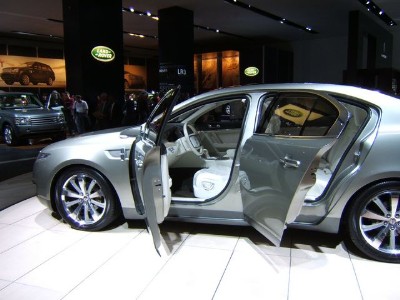 You've never seen so many white leather interiors as they have at this show. They probably don't even offer white leather in actual products, but it shows up better in the convention center.
Aston Martin, Mazda, Volvo, Jaguar, and Range Rover are all controlled if not owned outright by Ford. They had quite a pile of new models and concept cars, as you can imagine. Here they are.
| | |
| --- | --- |
| The new Jag XK Convertible. Nothing says "I ain't from around here" like a new Jag Convertible. The XK replaces the XK8, but it still has 8 under the hood. | The Aston Martin 4-door Rapide Concept. They wouldn't even let us walk up to any of the ordinary Astons, let alone this one. |
| Making its world debut, the Volvo C30 Concept just shows that even Volvo has to build concept cars. It's designed for people who might buy a Volvo, if Volvos weren't so dull. | The Mazda Kabura Concept was a very sporty machine. It was designed by the same man who created the Pontiac Solstice. |
GM News
As you can probably guess, GM is a big place, and they brought a lot to the table. Here are a few new models.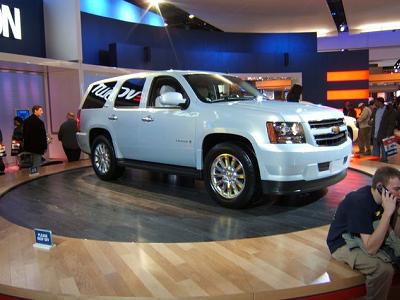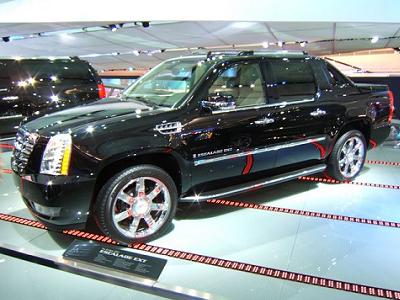 The Tahoe, Subdivision, Yukons, and Escalades have been restyled, taking the slab look to a new high in flattitude. These 2007 models are already in showrooms and on the streets. The Escalade has a Trans Am-style fender vent to break up the broad sides.
These huge SUV's and GM's full size trucks will be out with hybrid drivetrains fairly soon. Everybody who is building a hybrid has one of these cool schematic-mobiles to show the components.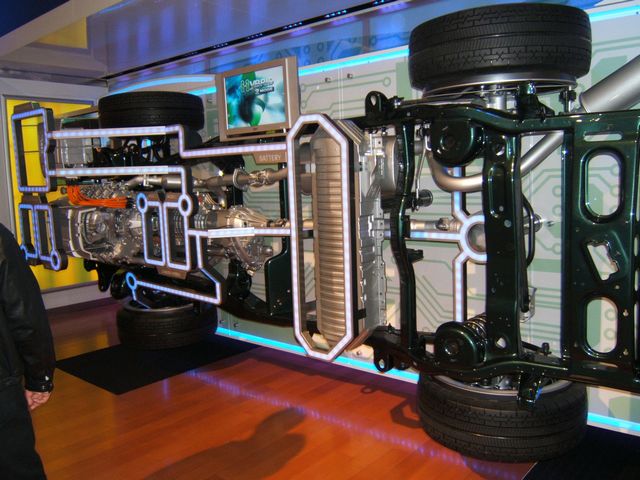 GM also had a cutaway hybrid pickup on display. The electric motor/generator in this system is enclosed in the transmission, and is not visible in these cutaways. As a result, the drivetrain looks very normal.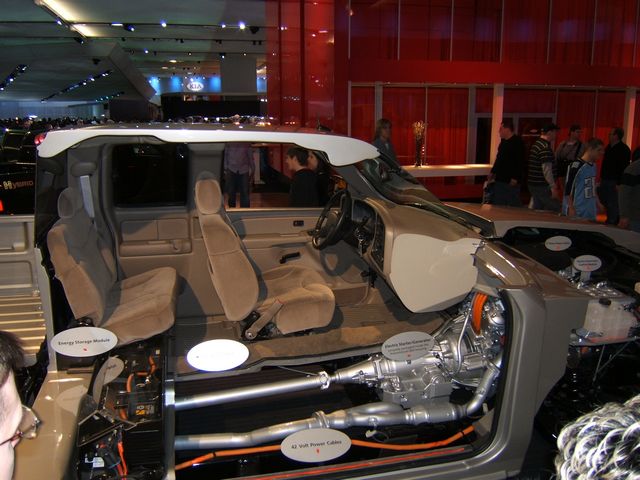 This will sound crazy, but if Chevrolet was introducing anything else new, I missed it. They have so many products I don't even know what they make now. I did get into an HHR, and I liked it. It appears to be roomy and studily made inside, at least. Look at what the orange one cost below! That's for a manual transmission model.
Pontiac was introducing the G6 convertible and the new Solstice GXP. Of course, most of us have never even seen the old regular Solstice. The GXP is expected to have 260 hp from a turbo version of the same 2 liter motor.
| | |
| --- | --- |
| | If the difference in the front facia is not obvious, it's that the GXP has 5 grille areas, including the area around the lights and the lower slot. The regular Solstice has only the two main grille openings. |
| | |
| --- | --- |
| The G6 Convertible is a handsomely styled car, like the coupe. I love the wheels. The back seat is a little bit skinnier than the coupe, but still useful for folks smaller than me. | |
Over at Buick, the big news was the Enclave Concept.
| | |
| --- | --- |
| | It's just another big SUV, so I'm not sure how it's a concept. I have heard some rumors that it is actually ready for production and Saturn, which has apparently blundered into the path of GM badge-engineering, will get a version. Notice the portholes on the Enclave's hood. Buick is putting ventiports on everything this year. |
| | |
| --- | --- |
| Buick's two cars, the Lacross and Lucerne, both have ventiports, and the number of ventiports seems to equal the number of cylinders. Buick sawed a Lucerne into pieces for the show for our amusement. | |
If there was any recurrant design theme this year at the show, it's ventiports. That is, holes in the side of the fenders. Everybody has them. They don't call them Ventiports, though. On the Escalade they're called "bling blowers". On the Superchief they're "honda ejection ports" for any Japanese cars you happen to run over. Lincoln calls them shizzle slots. Maserati calls them Salamiports.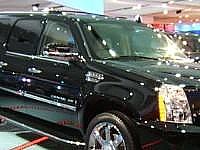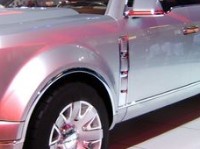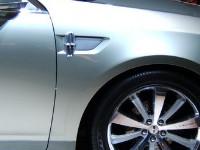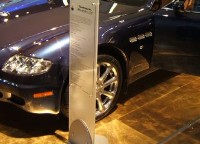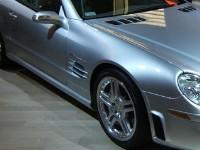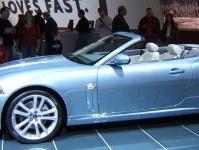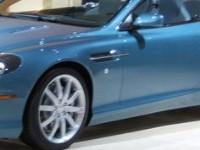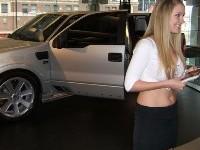 Mercedes calls them Kraut shredders. Jaguar calls them fog outlets. Aston Marton calls them James Bond-o-lets. The Saleen pickup has a pair of things there too.

GM's once "special" brand, Saturn, gets a version of the Solstice called the Saturn Sky.
The Sky brochure features scratch and sniff. I'm not sure who that marketing is directed at, but it's probably not the Marines.

A lot of people have praised the Sky's styling, and the car fits in with Saturn's original mission. I think it'll do well. I prefer the looks of the Solstice myself, but only a little.

They also were showing a 2007 model called the Aura. They really need it. Now that gasoline is $2.50 a gallon, the little 40 mpg sedans that Saturn was created for might come in handy. The Aura shares platform engineering with the G6 and other GM sedans.
It's kind of interesting that once-unique Saturn's planned offerings now include versions of the butt-ugly Uplander, the Solstice, a shared-platform CUV, a shared sedan, and the Enclave SUV. It should be very very obvious that Saturn has joined the ranks of badge-engineered GM divisions. Saturn sales are slow, but they still enjoy a bit of "sacred cow" status at GM. Saturn has been quietly left out of the threats about Buick and Pontiac, both of which outperform Saturn.
Mopar Moves
In addition to the Challenger, Dodge had a couple of new Charger Super Bee colors to announce, including this yellow and a bright red.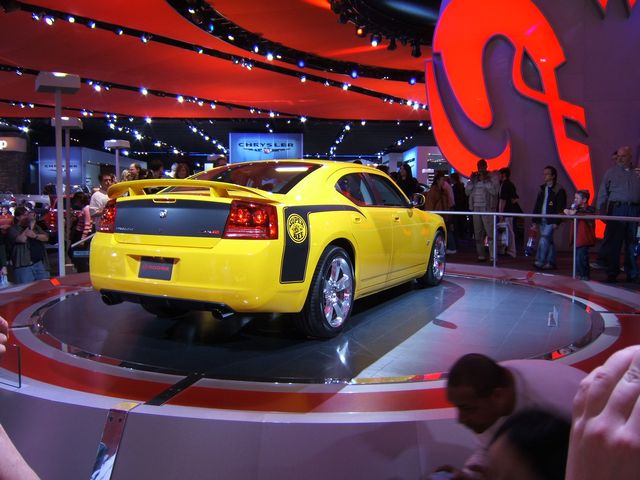 Their big new product announcement was the Caliber, which replaces the Neon.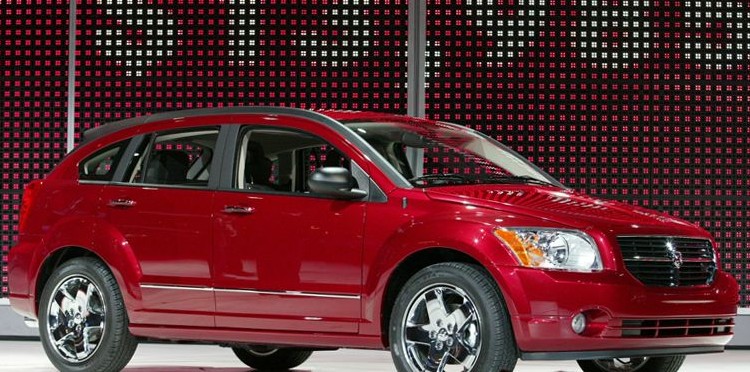 I find it odd that the Neon could be replaced by an SUV, but at the prices they're planning, I think it'll sell well enough. While we paid all our attention to the Challenger and Vipers and such, neither of us even took a picture of the Caliber. Not that it doesn't look good. I think it looks sharp, but it just isn't our thing.

At Chrysler they got quite a bit of good press for their new Imperial Concept.

| | |
| --- | --- |
| A panel of Detroit Free Press readers actually picked the Imperial as their best of show. There were a lot of women on that panel, and they sure weren't going for the Challenger or the Camaro. | |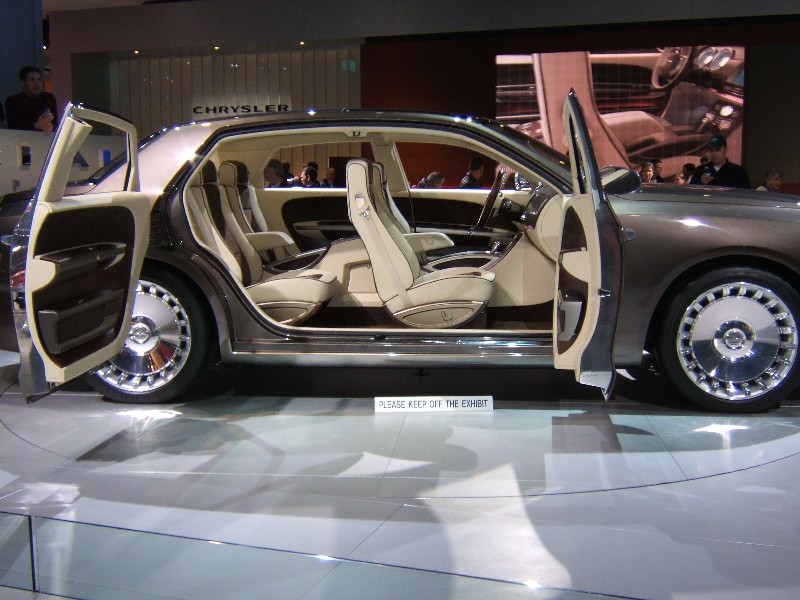 The Imperial certainly won't be produced with the features shown here, but it has a lot of potential to come back as a trim level on the 300, or maybe just a slightly modified version of the 300. There's a pretty strong resemblance that shows where the Imperial came from - Compare to the 300 SRT-8 below.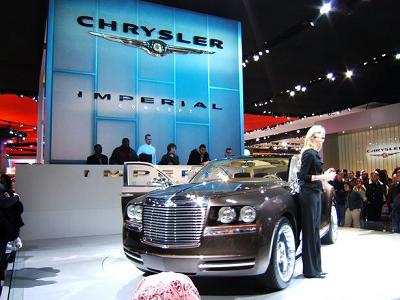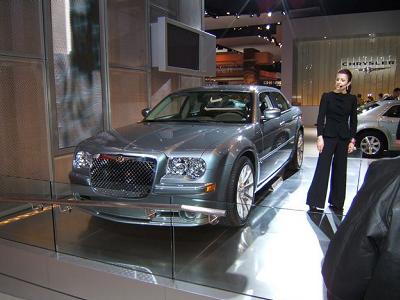 The big surprise from Chrysler is that the Aspen name is coming back on a Chrysler version of the Dodge Durango. Being a Chrysler, it ought to be upmarket, but the Durangos can be optioned up close to $50k, so it may not accomplish much. I suspect it'll compete mainly with the Durango, but Chrysler dealers will be happy to have a big SUV.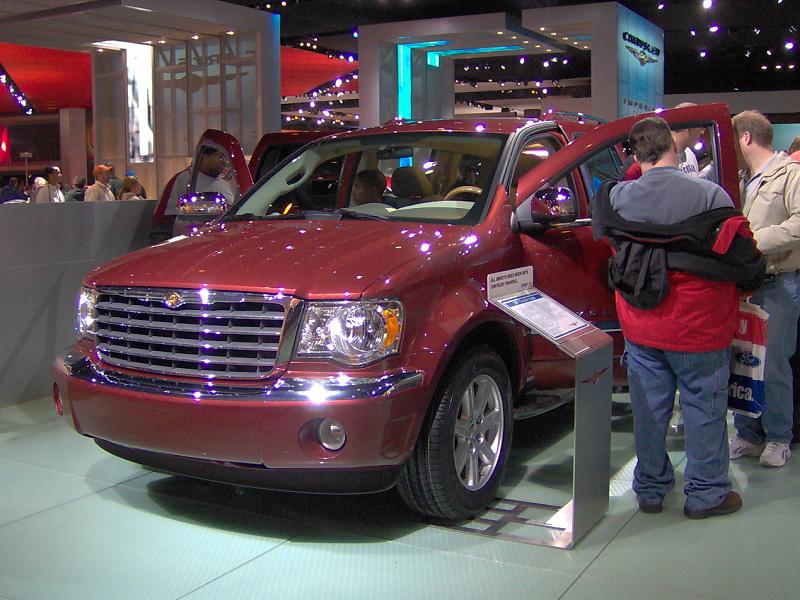 Like most folks, I would have bet the farm that the Aspen name would never come back after the late 1970's Aspen that replaced the Dodge Dart. It was a frumpy little car, and famous for outer body rust-through. Everybody poked fun at the old Aspen, but it really was a bullet-proof old car, aside from the rust. It was probably one of the better products from Chrysler's bankrupt period. So perhaps it isn't a death sentence on the new Aspen. The bad news is, the 1970's Aspen got better gas mileage than this new one will.
Along with the new products, Chrysler also gave us a taste of what we came to see: Crazy display stuff. This cutaway T&C had motorized stow and go seats that stowed themselves. A minivan with doors like that would sell, too. Not available at your dealer, unfortunately.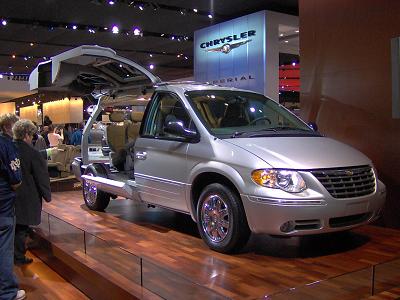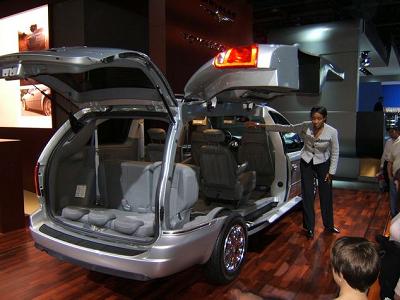 Jeep has a pretty impressive display at the Detroit auto show. They weren't the only ones with a car hanging on the wall, but the were the only ones pretending it climbed up there. They also have a waterfall that forms words and the Jeep logo and such.



The waterfall is squirting water from the ceiling in the right of this photo, but you can't see much of what it's really like in photos.
Jeep had the most bona fide new products of any Chrysler division, at least by my count. These are the all-new Wrangler and the Jeep Compass. They also have an SRT-8 that is new, and helping to break down the "trail rated" stereotype.
| | |
| --- | --- |
| | I don't really see the point of the Jeep SRT-8, but that doesn't mean there's not one. I just think if you want high performance, you'd never need it in this vehicle. For one thing, it's heavy, and weight is the enemy of every kind of performance. I'm sure it's awesome, but it just seems like the other SRT products would do everything better than this would. On the other hand, at least you won't be a poser in this Jeep. It's obvious you're not supposed to go offroad in it. |
| | |
| --- | --- |
| Jeep is too smart to mess with the styling of the Wrangler, and so even though it's all new, it still looks like a Wrangler. They had loads of 2007 Wranglers on hand, but they were locked or (like this one) roped off, confirming their true prototype status. | |
The Compass was a bit of a surprise. Jeep has never made a "crossover" utility vehicle. As the inventor of SUV's, they have carefully cultivated their non-poser serious SUV image. Years ago they built a concept vehicle called "Compass" that hinted at how Jeep would address the fast-growing crossover market. You'd think they would enter this market with great care and with a really special initial product. Oh, how wrong you'd be.
| | |
| --- | --- |
| | The Compass is Jeep's version of the entry-level, Neon-replacing Dodge Caliber. It has all the Caliber's front-drive car guts, but with a lot worse styling. The fender "shoulders" from the earlier Compass concept vehicle were stuck onto the sides of this thing, but the proportions are completely different. It's a great example of how concept cars can look cool and then just fall apart when executed for production. I'm not sure how it's priced, but the Caliber is dirt cheap, so I think the Compass will be the cheapest of Jeep's products when it comes out this fall. |
Although there were some cool cars at the show, the proliferation of new American SUV's and crossovers seems to suggest a shift in focus even farther away from cars. It's as if the Big 3 have decided to let the Japanese make all the cars for North America, while they make the SUV's and trucks. This is particularly blunt where entry level cars are simply being deleted and replaced with cheap SUV's like the HHR and Caliber. What it boils down to, I think, is they are able to charge more for the exact same product if it's configured with a higher center of gravity. They desperately need the money, we all know, and I understand that. What worries me is the day that SUV's become yesterday's fad.
Foreign Offerings in Motown
Well, there were a lot of foreign concept cars and new models at the show. As this page is already getting long, we'll just touch on a few of our favorites.

Japanese Retro comes to the party in the form of the 2007 Toyota FJ Cruiser. The Cruiser is a 4runner underneath, but is styled to look like an old FJ40 Landcruiser. Looks good to me.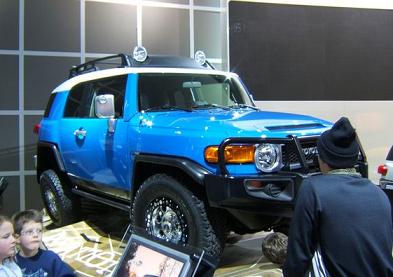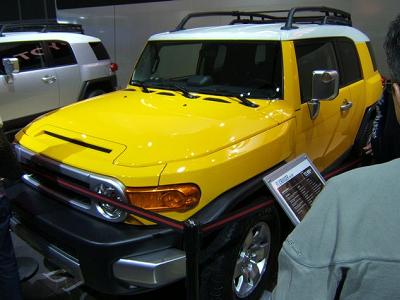 This blue one, with manual transmission, is going to sticker around $22,000. The yellow one was about $23,000. I don't know what 4runners sell for, but I would have thought more than that. They'll sell a bunch of these.
Not to be left out, the Italians also had a retro offering in the Lamborghini Miura Concept. This is just about the most gorgeous thing I've ever seen, but of course I coudn't buy one even if they made them. Like the Challenger concept, it just looks right.
The Germans never change the styling of their 911, so it's always retro. It seems kind of a shame to make a cutaway of such an expensive car. That's the kind of stuff you see at the show. Check out the guy with the free Porsche poster.
Here's a cutaway of that 400 hp Lexus hybrid SUV you've been hearing about. Like some other cars I've mentioned, I'm not really seeing the point of this. This was designed in a no-compromises way that doesn't save much gas. As a consumer, if I was going to tolerate that much added complexity, I'd have to have a lot more out of it than 2 or 3 mpg. As it is, I'd much sooner accept a decrease in capability (compared to what a Lexus RX offers), which might save 20 mpg plus the cost of a year of college. But that's just me.
Here's another great example of complexity. This cutaway of the Acura RL shows its 4 wheel drive setup with 2-speed rear end. It also featured a carbon fiber driveshaft, for those situations were steel just doesn't cost enough. Combining a 2-speed rear with 4 wheel drive has not exactly been a popular idea, so as an engineer, it intrigued me. Its purpose on the RL is to put additional torque on the outside rear tire during cornering. I enjoy reading marketing explanations of this stuff, because they never really make sense. In this case, they claim it "accelerates" the tire, as if they really wanted to spin that tire. I'd love to drive one of these. With the body on it, I mean.
I used to think my Lincoln Mark VII was a complicated car, but I'm obviously far behind the times.
BMW unveiled their M Roadster and Z4 Coupe Concept at the Detroit show. The M Roadster receives the same 6-cylinder engine as the M3.

Before we stop, here's the usual collection of funky Japanese concept cars!


This Suzuki looks cool.

I'm not sure what they call it, but it's got high-water exhaust.

You don't see too many concept cars for soccer moms.

Here's the Jetson's car.

Orange is the new black this year.

At least for concept cars.

Audi Roadjet looks ready for production.

As does the VW Eos.

Concept cars for kids. This Kia has a skateboard compartment.

The Nissan Urge has built-in Xbox 360, connected to the pedals and steering wheel. Safety issues?
Finally, here's the soon-to-be best selling car in America, the 2007 Camry. In a word, it's big.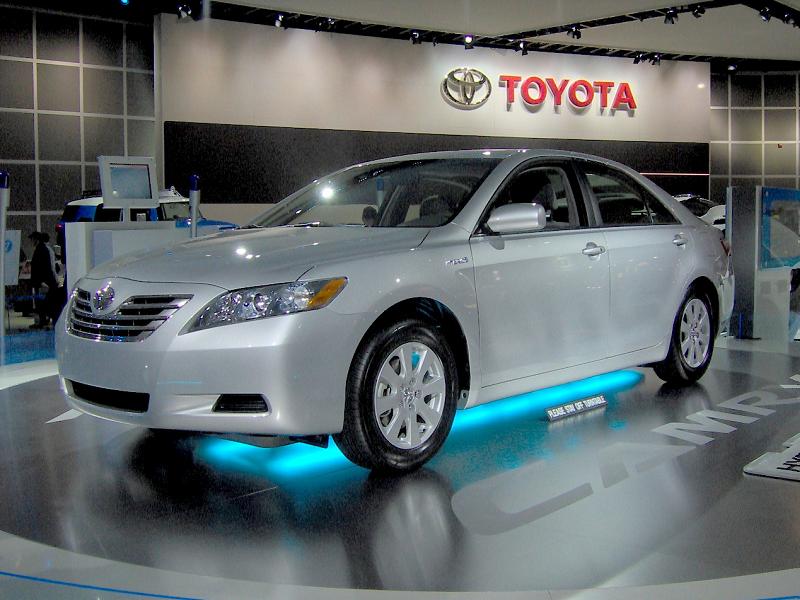 This is the car everybody is predicting will put Toyota ahead of GM in worldwide sales. Doesn't exactly get your heart racing, but apparently that's not what it takes.
I hope you've enjoyed this overview of the North American International Auto Show. There were 700 different cars there, so while this page has gotten very long (whew) it's still just a tiny fraction of the show. I would certainly recommend it as a really great experience.